Regardless of your personal feelings about Wikipedia, it's being used by students every day. In a recent Pew Internet survey (Purcell, 2012), teachers indicated that Wikipedia was the second most frequently used online tool behind Google.
Even though some teachers continue to ban its use for particular assignments, Wikipedia use overall has increased steadily (Zickuhr & Rainie, 2011). Launched a dozen years ago, Wikipedia currently contains millions of articles written by volunteers like you. A community of users have established a set of principles to follow in adding content and guidelines for resolving conflicts.
Wicked or Wonderful?
In the early days, scholars charged that Wikipedia was full of inaccuracies, bias beyond belief, and even harmful to young minds. However over the years, research proved these naysayers wrong. Reid Goldsborough (2012, 68) stated that "though it's often pooh-poohed by teachers and editors for its lack of academic rigor, Wikipedia has a self-correcting mechanism that eliminates much inaccuracy."
Policies. A collaboratively edited, free Internet encyclopedia run by the non-profit organization Wikimedia Foundation, Inc. Three core content policies guide content creation on Wikipedia. First, articles must present a neutral point of view. Second, the content of articles must be verifiable. Third, original research should not be posted.
Vandalism. Although vandalism continues to plague this resource, an army of volunteers help to keep the resource accurate. About 7% of edits to Wikipedia are vandalism and almost all of these edits are made by anonymous users (Potthast, 2010). Users who violate rules such as posting false information, promoting a product, or adding inappropriate content are blocked from editing. In addition, the development of user access levels ensures that the most important articles are protected.
Authorship. Active article creators and editors are known as Wikipedians. While some are amateurs, others are experts in the areas where they post articles. Many professionals pay close attention to the articles on topics related to their area of expertise. For instance the day Pluto was reclassified from planet to dwarf planet, the Pluto page was buzzing with activity from those actually participating in the International Astronomical Union vote on the issue.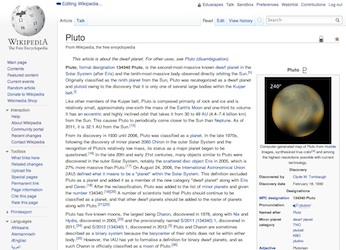 Sources. Most web pages including Wikipedia aren't primary or secondary sources. However this doesn't mean they aren't valuable. Most of us grew up using tertiary sources such as World Book Encyclopedia. Tertiary sources collect existing knowledge rather than generating new information. Article content is only as good as the sources cited.
Reliability. The reliability of Wikipedia compared to other encyclopedias has been studied extensively over the past decade. One of the most controversial studies compared the accuracy of Wikipedia with Encyclopedia Britannica head to head. It found that they were similar in accuracy (Giles, 2005). A more recent study comparing the two encyclopedia on the topic of mental disorders found that Wikipedia was as good or better than Britannica (Reavley, 2012). Ragagopalan (2011) found that inaccuracies were rare in Wikipedia and Haigh (2011) concluded that Wikipedia was of sufficiently sound quality for nursing students. While Rector (2008) found Wikipedia to be less accurate than other sources, Brown (2011) found Wikipedia to be almost always accurate.
Academic Research. While it's not appropriate to cite Wikipedia in most academic research, Wikipedia is an excellent starting point for student inquiries and particularly useful when investigating emerging topics not covered through other sources. Wikipedia should be only one of many sources used in the triangulation of evidence. By using multiple forms of evidence, the student is able to ensure the validity and reliability of findings. Many educators suggest teaching student to use Wikipedia properly rather telling them not to use it (Murley, 2008; Harouni, 2009).
The key is using Wikipedia effectively is understanding how the resource is constructed and how to use it effectively.
What You Should Know
School librarians often find themselves in the middle of the Wikipedia debate dealing with misconceptions and misuse of this information resource.
Let's explore a dozen things you should know about Wikipedia to prepare for this debate.
Five Pillars. It's important to understand purpose of Wikipedia. The fundamental principles that guide Wikipedia form Five Pillars. These include:
Wikipedia is an encyclopedia.

Wikipedia is written from a neutral point of view.

Wikipedia is free content that anyone can edit, use, modify, and distribute.

Editors should interact with each other in a respectful and civil manner.

Wikipedia does not have firm rules.
Closely Monitored. From celebrity gossip to mass shootings, Wikipedians closely monitor breaking news and strive to post accurate information quickly. However, they sometimes protect pages that are likely to be vandalized by restricting users who can edit these pages. A Biographies of Living Persons policy stresses the importance of taking great care when reporting on living people.
Protected Pages. Some articles allow only restricted editing. This protection may include full protection, pending changes protection, or even permanent protection. The Martin Luther King, Jr. article and Area 51 article are examples of a semi-protected pages. The protection is intended to reduce vandalism and encourage reliable information.
Go to the Abraham Lincoln article and try to edit the page. This is a semi-protected page, so only user accounts with a particular level of access can change this page.
Message Boxes. Many Wikipedia articles contain message boxes at the top of the page indicating an issue that should be addressed to improve the article. These messages may dispute the neutrality of article, question the factual accuracy, or note the need for additional citations for verification. Pay careful attention to these warning messages before using information from a page with multiple issues. Better yet, help make the article better by making a contribution to the page.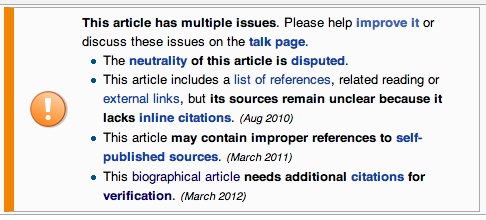 Neutrality. Wikipedia articles are intended to provide a Neutral Point of View. A student discussion of neutrality is a wonderful opportunity to explore the topic of fact versus opinion. Ask students to explore a Controversial Issues article and look for issues of neutrality. For instance, an article dealing with Water Stagnation may view stagnant water as a danger or as an important habitat for living creatures. In some cases, pages have been created to focus on a particular controversy such as the Aspartame Controversy .
Verifiability. One of Wikipedia's core content policies relates to the use of reliable sources to support information posted in an article. Many articles contain a message box at the top of the page indicating the need for citations. Talk with students about the importance of using reliable sources. Ask them to evaluate an article and determine whether the information meets the Verifiability guidelines.
Permanent Links. Many Wikipedia pages have been updated many times. The article you read last week may change this week. Think about how many times an article on a topic like Climate Change has been revised over the past decade. If you want to cite an article as it exists the moment you read it, use the permanent link. Find the permanent link in the sidebar navigation. It will provide an address for the current revision of the page.
Portals. Although most searches are done using the search box, consider using a portal for major categories of information related to a subject. A portal is a topic starting point that provides readers with key articles, images, and categories. The Portal: Content page provides a master list of topics such as literature, arts, geography, health, history, mathematics, science, social studies, and technology.
News. The Portal: Current Events provides accurate, concise, current information from around the world. The articles often cover topics that are overlooked by the mainstream news media. However keep in mind that Wikipedia is intended to be an encyclopedia, not a newspaper. A sister website called Wikinews provides in-depth news.
Fictional Worlds. You may think of Wikipedia as an information resource for social studies or science topics, however it's also a great place to explore a wide range of topics. From an article on Tolkien's Shire of Middle Earth to details on C. S. Lewis' Narnia, Wikipedia provides a wonderful resource to explore the fictional worlds found in literature.
Spoken Word Project. Wikipedia has a spoken word program. Go to the Spoken Articles page for a master list of articles with a spoken word version. The audio recording for Saturn can be found near the top of the page on the right hand side. The spoken word option is particularly useful for topics such as Greek Mythology that contain words that are difficult to pronounce.
Guidelines. For those interested in editing or creating articles, a set of Guidelines have been established that represent best practices. These are helpful in knowing how to behave when collaborating on Wikipedia articles, editing and creating content, and addressing style requirements.

Appropriate Uses of Wikipedia
The effective use of information resources like Wikipedia is an important 21st century skill and connects directly with the research skills outlined in the Common Core curriculum. Let's explore a dozen ways you can weave information skills into Wikipedia activities.
Use Wikipedia. Go to Wikipedia. Define encyclopedia and discuss the purpose of using a tertiary source. Talk about the importance of citations as evidence in an article. Look at the notes and use the further readings links to location the primary and secondary sources cited.
For example, read the Yellowstone National Park page for background information about this park. Scroll to the bottom of the page. Examine the references that were use in the article to support the content. Also, notice the external links. These are places you can find quality information such as the official Yellowstone National Park page.
Remind students that Wikipedia is an encyclopedia, so it's helpful in providing background information about a topic such as the Asperger Syndrome page. However for class research projects, they should be using the references and external links provided on the Wikipedia page such as the National Institutes of Health or OMIM from Johns Hopkins University to access original research findings and summaries.
Evaluate and Rate an Article. Search for a topic that relates directly to student experiences or knowledge such as your town or city. Talk about whether they think the information in the article is factual. Also, discuss the citations used as evidence. Then, scroll to the bottom of the page and discuss how pages can be rated. Use the process of evaluating and rating a page as a culminating activity at the end of a subject-area assignment such as the study of the social issues or government structures.
Some outstanding articles have been identified as featured articles within the Wikipedia community. These pages contain a gold star near the top of the article. Those under consideration as featured articles contain a green icon with a plus inside.
Cross Reference Articles. An easy way to get started with editing is by finding words in articles that can be linked to other articles. For instance, an article on the Pythagorean theorem might mention Pythagoras, but fail to link to the Wikipedia article on this noted mathematician. Rather than editing anonymously, take the time to create a login so you can go back and see all the edits you've made over time.
Add Citations to an Article. Anyone can contribute to Wikipedia. A good way to begin is by adding a citation to support a statement found on a Wikipedia article. Locate information online, in books, or on historical documents. Take notes and be sure to cite the source. For example,
Dellenbaugh, Frederick (1902). The Romance of the Colorado River. New York: G.P. Putnam. Available: http://archive.org/stream/romanceofcolorad00dell
Seek out article that contain message boxes indicating the need for citations. For instance, the Fictional Worlds article contains a note indicating that additional references and inline citations are needed.
Adopt an Article. Search Wikipedia for articles related class topics. For instance, you might search for information about a geographic location such as Thousand Lake Mountain. Does this page need to be updated or expanded? If so, a class could adopt this article. It's not a formal adoption, you simply choose an article and dedicate yourself to editing and expanding the resource. For instance, you might correct typos, add new information, or supply citations.
Have some fun. Adopt a page like Milne's Hundred Acre Wood and provide citations related to the locations found in the Winnie-the-Pooh series.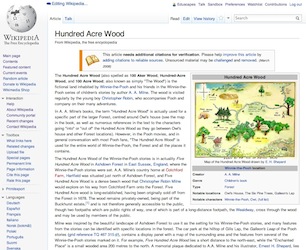 Create an Article. It's possible to get new pages approved, however it's an involved process. The guidelines are fairly strict. The Wikipedia community is interested in articles that go beyond local connections, so strictly local content may not be approved. An article must meet the Notability test. In other words, the subject must be worthy of notice. In addition, Original Research articles are not allowed. Students should not be posting the results of their science fair projects.
If you need ideas, go to the WikiProject Requested Articles area. Individuals can post articles they would like to see created.
Create Video Content. Wikipedia has expanded to include open source audio and video content. The Wikiproject Lights Camera Wiki program encourages the production of short videos in specific content areas. The architecture initiative focuses on exploring historic architectural sites such as Grand Central Terminal in New York City.
Join a WikiProjects Program. The WikiProjects program connects people with similar interests and encourages them to work together in specific subject areas. Go to the Directory for a master list of areas of interest.
Seek Assistance. New Wikipedia article creators are encouraged to seek help building their skills. The Teahouse is an area where new editors can ask questions and develop online relationships with other writers. If you'd like some one-to-one mentoring, visit the Adopt-a-User program. New and inexperienced users are paired with more experienced Wikipedians. If you want help using Wikipedia in the classroom, join the Online Ambassadors program. This experience supports teachers and their classes working on Wikipedia projects.
Use Wikimedia Sister Projects. Besides Wikipedia, the Wikimedia Foundation hosts a range of other free content projects. If you're looking for free, open-content, use textbooks and manuals from Wikibooks and or texts from Wikisource. Free learning materials can be found at Wikiversity. If your students are involved with a photography or historical photo digitization projects, add content to the free media repository Wikimedia Commons. The recently launched Wikivoyage would be great place for your students to work on building travel guides.
Become a Wikipedian. The best way to get to know Wikipedia is to become a Wikipedian yourself. As part of a local history project, we searched Wikipedia for people related to the history of southern Utah. We were surprised to find that no article existed on Almon Harris Thompson. Creating an original article was a wonderful opportunity to dive into history and to get to know this important historical figure.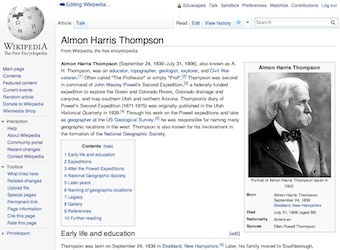 Get Connected. If you want to keep up-to-date on what's happening with Wikipedia and its sister projects, subscribe to the Wikimedia Blog.
Conclusion
Like Gregory Maguire's re-imagined Wicked Witch of the West, Wikipedia may simply be misunderstood. Be prepared to show the wonderful side of Wikipedia to parents, teachers, and students.
Resources
Brown, Adam R. (2011). Wikipedia as a data source for political scientists: accuracy and completeness of coverage. PS Political Science and Politics, 44(2), 339.
Giles Jim (December 15, 2005). Internet encyclopaedias go head to head. Nature, 15, 438.
Potthast, M. (Jul 2010). Crowdsourcing a Wikipedia Vandalism Corpus. In, Proceedings of the 33rd Intl. ACM SIGIR Conf. (SIGIR 2010), ACM Press.
Goldsborough, Reid (April 2012). Truth testing on the Internet. Teacher Librarian, 39(4), 68, 71.
Haigh, Carol A. (February 2011). Wikipedia as an evidence source for nursing and healthcare students. Nurse Education Today, 31(2), 135-139.
Harouni, Houman (Fall 2009). High school research and critical literacy: Social studies with and despite Wikipedia. Harvard Educational Review, 79(3), 473-494.
Murley, Diane (2008). In Defense of Wikipedia. Law Librarian Journal, 100, 593.
Purcell, Kristen, Rainie, Lee, Heaps, Alan, Buchanan, Judy, Friedrich, Linda, Jacklin, Amanda, Chen, Clara, and Zickuhr (November 1, 2012). How teens do research in the digital world. PewInternet. Available: http://pewinternet.org/Reports/2012/Student-Research.aspx
Rajagopalan, Malolan S., Khanna, Vineet K., Leiter, Yaacov, Stott, Meghan, Showalter, Timothy N., Dicker, Adam P., Lawrence, Yaacov (2011). Patient-oriented cancer information on the Internet: A comparison of Wikipedia and a professionally maintained database. Journal of Oncology Practice, 7(5), 1-6. Available: http://jop.ascopubs.org/site/er/JOP000209.pdf
Reavley, N.J.,Mackinnon, A.J., Morgan, A.J., Alvarez-Jimenez, M., Hetrick, S.E., Killackey, E., Nelson, B., Purcell, R., Yap, M.B.H., and Jorm, A.F. (August 2012). Quality of information sources about mental disorders: a comparison of Wikipedia with centrally controlled web and print sources. Psychological Medicine, 42(08), 1753-1862.
Rector, Lucy Holman (2008). Comparison of Wikipedia and other encyclopedias for accuracy, breadth, and depth in historical articles, Reference Services Review, 36(1), 7-22.
Zickuhr, Kathryn & Rainie, Lee (January 13, 2011). Wikipedia, past and present. Pew Internet. Available: http://www.pewinternet.org/Reports/2011/Wikipedia.aspx
---