Middle School Cases
Explore the following cases.
Ashley: Glorious Gardens and the BioBlog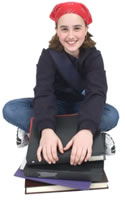 Ashley loves her garden. She entered her tomatoes in the 4H fair and won a second place red ribbon. However she's already seeking ways to improve next year's crop.
She's thinking about the sources of information that were most useful this year. For example, Mrs. Collins who runs the farmer's market had lots of great ideas. She only talked with him briefly last year, but now she's going to go back with a set of prepared questions.
As she analyzed her data, she found that the Burpee seeds were the best. She's going to use the Burpee website to explore other tomato plant options.
Journaling is an important activity for gardeners. Ashley has been keeping a garden journal for three years. In addition to tracking her plantings, she also keep notes about things she learns in science, suggestions from fellow gardeners, and ideas for future projects.
She's started a digital journal so she can incorporate digital photos of her garden. She calls her journal the BioBlog.
Explore Mr. Samuels's involvement as an instructional specialist.
Explore Mr. Campbell's involvement as an instructional specialist.
Explore website resources and journals used by student information scientists.
Brandon: Disaster Detector
Brandon is a student information scientist. As he watches the news about the latest natural disaster, he wonders whether it's possible to create better systems for detecting and planning for these events.
He asks the school library media specialist how to find the most knowledge people in the area of earthquake prediction. He wonders where to find the newest and best information. The media specialist discusses the idea of authority. As Brandon searches he begins to notice that most of the websites direct users to the United States Geological Survey earthquake center website.
Explore Mr. Samuels's involvement as an instructional specialist.
Explore Mr. Campbell's involvement as an instructional specialist.
Explore website resources and laptops used by student information scientists.
Kristen: Lewis, Clark, and Kristen: Explorers
A ninth grader, Kristen is an explorer. She wonders what it might have been like to be an early explorer charting unknown territory.
Kristen's parents are considering a summer trip along the Lewis and Clark trail, so she decides to do a little exploring of her own. She loves video, so she starts at the DVD section of the school library. She is surprised to find 4 videos. After reading the dust covers, she checks out the Ken Burns PBS video Lewis & Clark - The Journey of the Corps of Discovery. She knows that Ken Burns is known for his quality documentary work, so she trusts that the will video contain quality information. While on a car trip to visit her grandparents, Kristen watches the video on her personal DVD player.
Now that she has a little background information about the expedition, Kristen returns to the school library. As she searches the print collection, she finds that many books have been written about the expedition. However she narrows her focus to two areas: primary sources materials and respected works.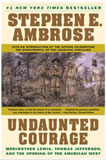 She ends up with two books. One book contains the original journals of Lewis and Clark. She was disappointed to find that many of the books containing the journals have been edited. She likes the idea of reading the words actually written by the explorers themselves. She know they will be difficult to read, but she thinks it will give her a better sense for the time and place.
She's also interested in a book that will be interesting to read and is also a well-respected account of the expedition. She chooses Undaunted Courage: Meriwether Lewis Thomas Jefferson and the Opening of the American West by Stephen Ambrose.
Explore Mr. Samuels's involvement as an instructional specialist.
Explore digital media used by student information scientists.
Explore books used by student information scientists.
Nathan: The Rockhounds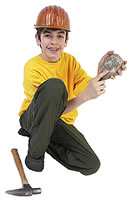 Nathan is interested in geology, so he was excited to hear about a Rockhounding project.
With funding from a science grant, the school library media specialist, fifth grade teachers, and the rockhounding club are working on a project to map the area geology resources. Using GPS and GIS, the students are identifying the best locations for finding specific rocks and materials. Along with a collection of new books, GPS devices and laptops with GIS software can be checked out from the school library.
The local rockhounding club has donated rock and mineral specimens to the school. As part of an earth science project, the fifth grade class is classifying and cataloging these rocks. The media specialist and classroom teachers are focusing on information and science standards related to evaluation and classification.
Nathan is interested in geocaching. Geocaching is an exciting hobby developed with the advent of GPS (Global Positioning Satellite) handheld devices. Combining hiking and treasure hunting, geocaching involves hiking to a set of coordinates (longitude and latitude) to find a "cache." He suggests to Mr. Campbell that the GPS locations might be used as part of a virtual geocache project. They wonder whether others have done this type of project, so they post a inquiry at the Geocaching Discussion Forum in the Education section. Nathan is excited to find that a number of geocachers post suggestions for their project.
Explore Mr. Samuels's involvement as an instructional specialist.
Explore Mr. Campbell's involvement as an instructional specialist.
Explore realia, discussion forums, and handheld devices used by student information scientists.
Samantha: Butterfly Migration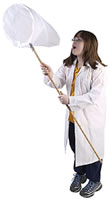 Samantha is interested in butterflies and has joined the Butterfly Garden Club. Each year the group participates in the Journey North project. This global study involves students in sharing their field observations with others across North America. The groups trace the migration of the Monarch Butterfly. Students keep charts of the migration patterns and report to the project through email.
They view the progress of the project on the Journey North Monarch Butterfly website and trace the migration on a wall map in the learning laboratory where others can share the experience. The visual below shows a map from the website. Click the map to learn more about this project.
Explore Mr. Samuels's involvement as an instructional specialist.
Explore email, maps, and wall displays used by student information scientists.
Megan: American Indian Heritage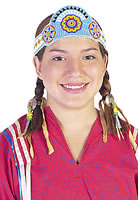 Megan has always be interested in Native American culture. Her grandmother was Navajo and she spend much of her life living in northern Arizona in the Navajo Nation. The local history museum has begun work on an American Indian Heritage exhibit and Megan is excited about being involved in their cultural events. She and her friend Sara want to learn an authentic dance that might have been performed during rituals in their area.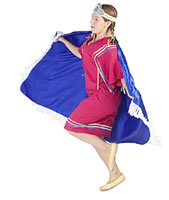 Megan's grandmother knows many native dances. Unfortunately, her grandmother lives a thousand miles away. Mr. Samuels, the media specialist, suggests that the girls use video conferencing as a way to communicate. With the use of web cams and a high-speed Internet connection, they're able to watch the dance and practice it themselves. Megan's grandmother can provide instant feedback and suggestions!
The museum project got Megan interested in learning more about her American Indian heritage. Using artifacts contributed from her grandmother, Megan developed a history fair project to submit to the state contest. Her project along with three others were selected for display in the library media center for History Month.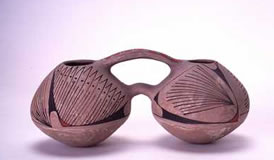 Explore Mr. Samuels's involvement as an instructional specialist.
Explore live virtual interaction and exhibits used by student information scientists.
Lizzie: Just Like New!
Mr. Samuels, the school library media specialist met with the 9th grade English and Math teachers to discuss ways to help students see the relevance of their subject matter in the "real world." They identified standards in the Math and English program that also integrated information skills. Their students would complete a cross-curriculular, inquiry-based project.
Assignment
Each student was directed to identify a "real world" problem requiring some type of construction or large-scale creation. They directed to apply their knowledge of math and writing to develop a plan to solve this problem including all the specifications and directions needed to complete the task. Along the way they would address the following standards.
Math A1.9.1 Use a variety of problem-solving strategies, such as drawing a diagram, making a chart, guess-and-check, solving a simple problems, writing an equation, and working backwards.
English 9.2.1 Analyze the structure and format of functional workplace documents, including the graphics and headers, and explain how authors use the features to achieve their purposes.
English 9.4.1 Discuss ideas for writing with classmates, teachers, and other writers and develop drafts alone and collaboratively.
English 9.4.4 Use writing to formulate clear research questions and to compile information from primary and secondary print or Internet sources.
English 9.4.9 Use a computer to design and publish documents by using advanced publishing software and graphic programs.
Lizzie, a ninth grader was not thrilled with the idea of a project. She preferred to read the textbook, do the problems, and take a test. It was much easier than actually thinking. This assignment sounded like work. At least she could count it for two classes at once!
Questioning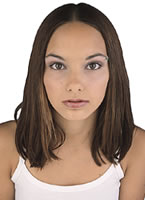 For as long as Lizzie could remember, her parents had talked about painting their house. In some places, the paint peeled off in long strips. She gazed out the window of the car and tried to ignore her parents as they debated about whether vinyl siding was better than old-fashioned paint. All of a sudden, it occurred to Lizzie that this might be a great inquiry project for her project. She knew that her parents didn't have much money, so they'd have to do the work themselves. However, it would finally resolve the family squabble and make her house look great!
Lizzie thought the recently installed vinyl siding on the neighbor's house was beautiful. It made the house look almost new. After telling her family about the project, they agreed to consider her plan. She started with the following questions:
Question 1 - Will vinyl siding work on our house?
Question 2 - How do I measure to determine how much materials I need?
Question 3 - What materials will I need? Where will they be purchased? How much will it cost?
Question 4 - What prep work needs to be completed before the project can start?
Question 5 - How does it get installed? How much time will it take?

Exploration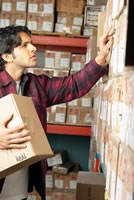 Lizzie decided to see if there was any information on vinyl siding at the local lumber yard. She talked her uncle into going with her on a Saturday afternoon. At first, Lizzie was a little overwhelmed by the options and terminology associated with siding. They provided lots of information and even gave her a brochure and website where she could download a 10 page manual.
Lizzie discussed her success with Mr. Samuels, the library media specialist, who shared his enthusiasm with the project. He suggested that she might use additional resources to confirm the information found in the brochure was correct.
Although the school library had one good book on home improvement, the most indepth resource was found through a Google search. The Vinyl Siding Institute (PDF document) is an organization that certifies vinyl siding installers. The manual described how to measure the house. It contained the same information as the brochure from the store, but provided much more detail. As Lizzie worked her way through the materials, she asked herself the following questions:
Is the information relevant to my questions?
Is the information from a credible source?
Are the facts confirmed by multiple sources?
The book, brochure, and website manual all explained how to measure, how to calculate materials needed, how to prepare the surface, and how to install the materials. Most of the diagrams made sense to Lizzie when she sat with her father to discuss the project.
After initial exploration, Lizzie created a list of things she learned. Next, she went through her list with her best friend Katie.
Home improvement people have their own language including: vinyl, siding, insulation, rail system, break

It's important to know the surface area to be covered. The windows are not excluded because this gives extra for error and waste.

Siding is sold in "squares", but what is that and how many will we need?

There is the siding itself, the insulation wrap, and the rail system. What else will be needed to complete the entire project? Will I need anything special for the windows?
Katie suggested that they talk to the neighbor who replaced his siding last year. He and his son did most of the work themselves. After talking to the neighbor, it was decided that Lizzie's dad and uncle could do most of the work. Lizzie just needs to figure out what supplies are needed.
Lizzie thought she was ready to begin measuring. With the use of a tape measure, pad of paper, pencil, and digital camera Lizzie and Katie recorded information about her house. They took photographs of each area and measured all the important features.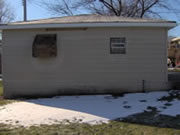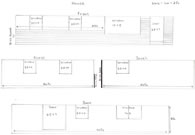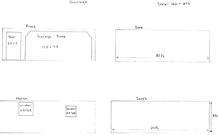 (Click to enlarge the images.)
Assimilation
Once all of these measurements were complete, she calculated how much of each type of material she would need. She figured out the square footage for siding and insulation by multiplying the length times height for the seven main areas. She decided not to calculate the area for the front of the garage because it did not have much siding, and there will be extra because of windows on the house. The starter strip was calculated my adding the total linear feet around the structures. These structures have 6 outside corners that will need fittings. One extra corner will only need a four-foot section because of the brick. The amount of J-channel was calculated by adding the linear feet around windows, under the soffit, and along the brick. The amount of flashing included the distance around the windows and the length of the corners. An extra roll was added for the wrapping of the windows. The following is a copy of her calculations.


(Click to enlarge and view the entire worksheet of calculations.)
Inference
With all of these calculation complete, she was able to create a shopping list. However this brought up a new series of questions.
Should the materials be purchased at Larson's Lumber at the end of main street or at the superstore thirty miles away?
Considering quality and transportation, which is less expensive?
What are the advantages and disadvantages of using the local store or superstore?
If the local store is more expensive, does the importance of supporting local businesses outweigh the savings?
Lizzie visited both the local store and the superstore to estimate material prices. She created a document in Excel to keep track of the budget (see below). Extra items were added such as nails, grip caps (for attaching the insulation), sealant, vents, mounting blocks, and the break rental. The break rental was for wrapping the windows. It would probably only be needed for one or two days, but she estimated for three just in case. If they rent it on Friday it would only cost $35 if returned Monday morning from the local store. However it was much more expensive for delivery from the superstore.

(Click to enlarge the download the Excel Spreadsheet.)
Finally, Lizzie made a summary of the things she prepared for the house transformation to review with her parents.
Reflection
At the end of the project, Lizzie stated that this project was something her parents had been talking about for years. It felt good to have a real impact on a family decision. At times, Lizzie said that she felt she was cheating by getting help from the people at the lumber yard and her family, but Lizzie's teachers convinced her that seeking guidance is part of learning.
Explore how measuring tools and calculators are used by student information scientists.
---