Differentiation & Technology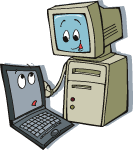 Your students are interested, motivated, and ready to learn. You've got computers, resources, and Internet access. You've even got a lesson that addresses your exact grade level standards. What's missing? Nothing, unless your class is "normal". In a typical class, each child is unique. Some students won't be able to read the materials you've selected, a few won't find the activities challenging, and others will have difficulty with the concepts because they lack the life experiences of others.
Use technology to help you differentiate the learning environment.
This online course explores ways to use the Internet to locate quality materials that will help you address individual differences in your classroom. In addition, ten tips are provided for connecting students to the learning environment through technology-rich resources.
Using the Online Course Materials
Work your way through the web pages you find in the navigation bar on the left. When you see words in Boldface Red Type, click the word(s) to go to a website with more information or a specific example.
When you see the following icons, you will be provided with specific web pages to explore within my eduscapes website. These pages contain links to many examples. For more information, explore other resources within these presentation, workshop, and course materials by clicking on the icon.

When you see the Differentiate! icon (left), you should complete the suggested activity.
Although this course does not require formal discussion or projects, these practical assignments will be helpful in applying what you've learned.

When you see the Review! icon (left), pay careful attention. This information will be useful for the required course exam.
Let's Go!
Use the links on the left side of the screen to move through the Technology Tools and the Ten Tips for Differentiation.

---