Where do you stand on intellectual freedom for youth?
This web project was designed as a companion for an article and presentation exploring how school library media programs and other educators can address key issues related to intellectual freedom and social technology for young people.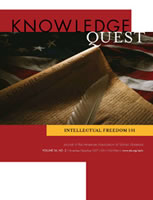 Read the AASL's Knowledge Quest issue titled Intellectual Freedom 101 (November/December 2007). Download and read Annette Lamb's article Intellectual Freedom for Youth: Social Technology and Social Networks (PDF). Also, check out Getting Started with Social Technology in Your Library.
Watch a video interview of Annette Lamb by Helen Adams on this topic.
Go to each of the following companion pages at this website to learn more. Or, use the navigation bar on the left:
---