Revitalize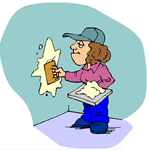 Conduct Periodic Site Evaluation
Ask people what they like and don't like
Who comes to the site and why?
Why do people not come to the site?
What are they seeking?
Expand User Interactivity
Use Macromedia Contribute
Post PDF files
Encourage blogging
Add Simple Elements
Online forms

contact information
request for information

Site search engine
Virtual tour
Slide shows
Language options (Spanish, etc.)
Produce Quality Content
Design original content rather than reproducing materials already available at other sites:

Local news
Historical information
Interviews
Discussions
Student-produced materials

Be sure the website is frequently updated through the use of special features:
Redesign for Intuitive Navigation
Maintain a consistent layout for easy navigation.
Limit the depth of the site so users don't need to go more than 3 layers down for information.
Save Time
Eliminate things that are hard to update

calendars - menus, sports, news, how can you handle differently?

If you can't maintain website links, connect to a few unchanging resources rather than many individual websites.
When possible, use external CSS and external JavaScripts so it's easy to make website wide changes.