Powers of Ten: Differentiation & Technology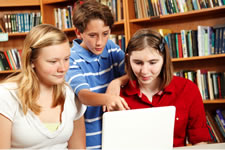 Differentiation is about varied approaches that spark student ideas and imagination.
What ignited your thinking when you were were in school? For me, it was a movie called the Powers of Ten. It made me want to learn more about the universe both large and small. Today there are other videos and animations that follow the same idea. How will you help learners understand, appreciate, and question their world?
Plan Engaging Learning Experiences
The key is establishing nurturing learning environments where all children will thrive.
The Great Migration is a National Geographic program containing interactives, games, and social connections in addition to the original text materials and video. Begin by asking: what are the big questions? What resources and tools will help all students learn?
Explore the following example showing how these elements can be put together to build a fluid environment for teaching.
Find the Main Idea. Watch an introductory segment as a group. Talk about the main idea. Rea the book and watch the DVD for more depth.
Find Supporting Examples. Form small groups focusing on specific animals such as Monarch Butterfly, Salmon, Zebra, and Red crab. Each group focuses on one animal.
Make Comparisons. Use the jigsaw approach. Form mixed groups and share the different migration patterns. What are the "big ideas" related to migration? Use a tool such as Webspiration to organize ideas.
Apply Knowledge. Play the migration game using knowledge for members of each group.
Transfer Learning. Complete the Blue Whale or Great White Shark expedition to learn how animals are tracked.
Extend Experience. Reach beyond the classroom and join a live event or explore a replayed assembly.
Challenge Local Thinking. Explore the behind the scenes area of the website. What migration could you follow where you live? Revisit the topic through a Journey North experience.
Take Action. Explore the Global Action Atlas and discuss why it's important to preserve wildlife habitats. Connect this to migration patterns.
Connect Across Curriculum. Associate this assignment with math, reading, and language arts. Choose a National Geographic Expedition you'd like to take. Do some real-world reading. Figure out the costs and write a persuasive letter to parents about why this would be a worthwhile trip.
How can you plan engaging experiences?
Conclusion
Let's review five powerful ways to differentiate through the use of technology by examining the use of the PBS NewsHour Student Reporting Labs project:
Plan - Use the power of technology to differentiate by organizing resources in meaningful ways to meet learner needs and interests.
Present - Use the power of technology to differentiate by reaching multiple learner senses through multimedia experiences.
Process - Use the power of technology to differentiate by extending the choices and tools for communication.
Produce - Use the power of technology to differentiate by providing a variety of options for sharing student understandings.
Promote Passion - Use the power of technology to differentiate by promoting a passion for learning.
Using technology in the classroom shouldn't be complicated or time-consuming. Instead, it should provide resources and tools that empower learners. For some child, a time-lapse video is what they need to learn.
"Life-long learners choose to seek out new ideas and alternative perspectives. They embrace our changing, dynamic, information-rich society by keeping their senses active and their minds full of ideas" (Lamb. 2012 Life-long Learning)
---