Almanacs and Inquiry:
Lessons from School 84
The Almanacs and Inquiry project was designed to help young people discover how almanacs can be an exciting element of the inquiry process.
One of the most common reference tools, the almanac is an annual reference resource containing collections of information such as calendars, statistics, lists, timelines, brief articles, and other data related to a general or specific field. Unfortunately many students only view reference materials as tools to find "THE" answer.
This project was intended to help students understand the endless cycle of questioning and answering that is at the "heart of critical thinking." According to Callison [1], "questions are expected, always respected, sometimes directed, but never neglected."
The mission of the Center for Inquiry is to "develop a community of respectful, life long learners, who use inquiry, critical thinking, and problem solving skills to be socially responsible contributors to a changing global society". Read A Dream Realized by Katherine Pierpont from Teaching PreK-8 to learn more about the Center for Inquiry in Indianapolis, Indiana.
Through a collaboration between the School Library Media program at Indiana University at Indianapolis (IUPUI) and School 84, 50 new almanacs were purchased to support an innovative inquiry experience for fifth and sixth graders.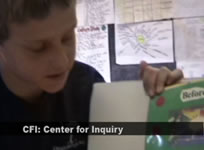 Explore each of the following elements of the project, as well as ideas for developing your own almanac inquiry:
You can also read a short, 10-page COMIC VERSION of this project.

View CFI: Center for Inquiry (:08).

In this very short video clip, a child describes the Center for Inquiry and it's mission.
Go to Almanacs as Springboards to Inquiry to begin exploring this exciting project.
---
[1] To learn more about this project, read A Kid's Inquiry Almanac in School Library Media Activities Monthly.
Thanks to Kate Kuonen-Bakhtiary (Ms. K) and her 2006/7 fifth/sixth grade class at School 84, Indianapolis, Indiana.
Also, special thanks to the children who volunteered their time and talents for the website videos. View their video introductions.
---