Almanacs and Inquiry:
Culture Study
The Culture Study project was an unexpected and exciting outcome from having reference books available to children.
The children decided they'd like to create their own map. It began as an outline and Ms. K suggested they could color it. To determine the appropriate colors, they began exploring biomes. Next, they identified countries.
As the students became immersed in their culture study, they thought of more and more things to add to their class map.
Biomes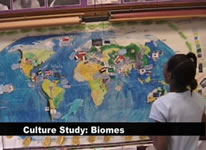 The children divided into groups to study biomes including desert, tundra, tropical, grasslands, forests, and deep sea.
Children worked in teams to identify information and add elements to their class map.

View Culture Study: Biomes (:50).

A child describes how the culture study began and their exploration of biomes.

Countries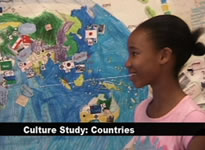 Each child choose a country to explore.
They were challenged to dig deep into their country as if they lived there examining the religion, language, government, how many live there, whether they're rich or poor, how population density impacts the country, and what they have in common with other countries.
As they identified information about their country, they discussed what elements might be added to their class map such as symbols for wealth, religion, and other information.

View Culture Study: Countries (1:33).

A child describes student explorations of countries and cultures.

Literature and Global Connections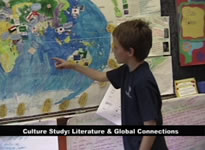 As students explored biomes and countries, they also began reading literature. They quickly learned that issues often have implications across countries and cultures.
A few of the books children read and connected to the culture study include:
The House that Crack Built
The Faithful Elephants
If the World Were a Village

View Culture Study: Literature and Global Connections (1:35).

A child describes literature the class read and the global connections.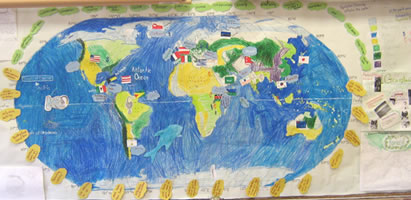 Click the map above to see a larger version.
Global Issues and Solutions
As students continued their exploration of the biomes, countries, and literature, they identified issues of concern such as poverty, pollution, and inequities.
Children created green word clouds when they thought of issues and yellow word clouds for possible solutions. These were displayed around the outside of their world map.
The Issues
As students explored the almanac resources, they identified global issues.
What are the issues?

medical access
opportunities for education
human impact
nature resources
deforestation
unequal power
racism
hunger
pollution
violence
overpopulation
poverty
global warming
extinction of plants and animals
homelessness
war
child abuse
The Solutions
As they explored individual countries and cultures, the student began identifying possible solutions to global issues.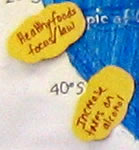 What are the solutions?
Use natural light in the day
No smoking in public places
Active recycling
Enforce strict pollution laws
Find renewable resources
Less focus on sports, more on education
Affordable health insurance
More books than bombs
Free education for all
Parenting classes
Increase taxes on alcohol
Healthy foods focus/law
Refurbish buildings
Stronger restrictions on pollution
Be a conscientious consumer

View Culture Study: Issues and Solutions (:46).

A child describes the issues and solutions identified in the culture study.

Visualizing Global Issues
As students explored global issues and solutions, they discussed ways that they could make the world a better place. They produced a giant map of the world with symbols placed to represent various aspects of culture, religion, government, economic status, literature, and biomes studied by individuals and the class. The visual below shows their thoughts and connections.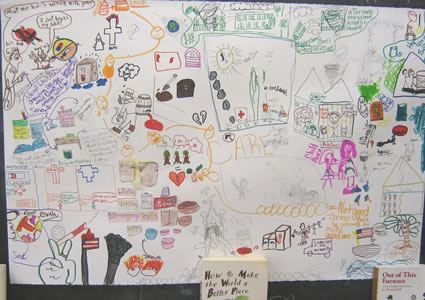 Click the visual above to see a larger version.
Below are some of the key ideas including the topics of global warming, racism, and child abuse.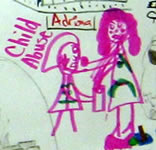 The children showed how they can help make the world better by participating in projects such as Habitat for Humanity.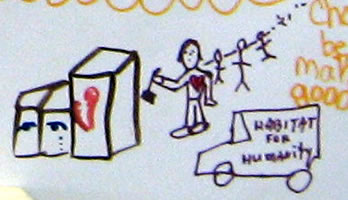 Go to the Almanac Inquiry Ideas and Resources page to learn more about the next phase of the project.
---