Queen of Cards
Haley loves to read and write. One of her favorite places to visit is the Communicator's Castle in the school library media center. She's known as the "Queen of Cards".
Haley wants to be a greeting card writer and is always looking for new holidays that need cards. She's beginning to see the connection between holidays, culture, and historical events. She's amazing that people don't know more about the holidays they celebrate.
Haley is always on the lookout for poems, quotes, pictures, and other things that can be used in making cards. Her favorite reference tools are collections of poems and quotes. She has a passion for the dictionary and thesaurus. She's always looking for interesting words and rhymes.
Alphasmart electronic keyboards are available in the learning laboratory for writing activities. She writes the captions for the cards in fun fonts, then uses the infrared feature to beam her project to the color printer. She uses the "silly shaped scissors" in the Communication Castle to cut out the text. Then, creates her cards.
Explore Ms. Anderson's involvement as an instructional specialist.
Explore how electronic keyboards and display areas are used by student information scientists.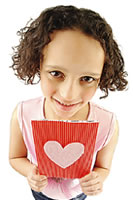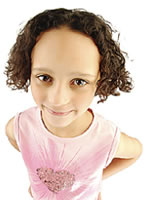 ---