Electronic Keyboards
For projects that involve writing but don't require a laptop, electronic keyboards such as the Alphasmart are a great choice.
The following example demonstrates how electronic keyboards facilitate the learning experiences of the student information scientist.
Information Intern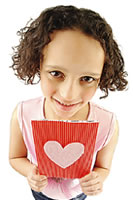 Haley wants to be a greeting card writer and is always on the lookout for poems, quotes, and pictures. Alphasmart electronic keyboards are available in the learning laboratory for writing activities. Haley writes the captions for the cards in fun fonts, then uses the infrared feature to beam her project to the color printer. She uses the "silly shaped scissors" in the Communication Castle to cut out the text. Then, creates her cards.
Explore Haley's investigation for more detail.
---