Audio Tools
Headphones, microphones, and audio player/recorders are just a few of the tools available for auditory learners.
Students can record their voices into the computer, an MP3 recorder, or tape player. This tool can be used to record notes, reading samples, or to create their own books-on-tape. Students can conduct audio interviews, built audio into their classroom museum exhibits, or create audio tutorials.
The following examples demonstrates how audio tools facilitate the learning experiences of the student information scientist.
Listen, Draw, Read!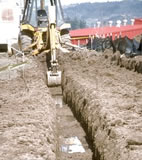 Michael learns most effectively by listening. He listens to audio books on CD while reading along with books.
Michael is interested in all kinds of transportation, particularly construction equipment like bulldozers and dump trucks. He's been investigating how each construction vehicle is used. Working with his special needs teacher and the media specialist, Michael is using the KidPix software to draw pictures, write descriptions, and record his narration.
Explore Michael's investigation for more detail.
---