Listen, Draw, Read!
Michael enjoys drawing, but is having difficult with reading. He is easily frustrated and often throws tantrums when things don't go his way. His teacher has found that books on tape and CD seem soothing to him. He seems more focused when he can listen and draw what he hears or read along with the book.
Michael particularly enjoyed the book and CD of Gary Soto's Chato and the Party Animals.
Michael is interested in all kinds of transportation, particularly construction equipment like bulldozers and dump trucks. He's been investigating how each construction vehicle is used. He uses books and videos to gather information about each vehicle.
Working with his special needs teacher and the media specialist, Michael is using the KidPix software to draw pictures, write descriptions, and record his narration.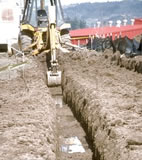 Explore Ms. Anderson's involvement as an instructional specialist.
Explore digital media, writing boards, and audio tools used by student information scientists.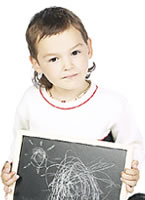 ---