Frequently Asked Questions
We're happy to answer your questions. If you don't find what you need, please email Annette Lamb.
Mission
What's the mission of Lamb Learning Group?
The mission of Lamb Learning Group is to provide professional development services and resources for educators in the area of educational technology integration.
The purpose of this website is to:
share information about our services and resources.

highlight our professional developers.

provide useful teacher resources.

focus on exciting partnerships and ongoing projects.
Services
What services does LLG provide?
Lamb Learning Group (LLG) supports the professional development needs of educators by providing professional developers that conduct workshops, presentations, consulting, and keynote addresses.
The audience for these activities include classroom teachers, library/media specialists, technology coordinators, preservice teachers, administrators, support staff, and other people involved with education.
The sponsor of these activities include school districts, universities, grant projects, regional education agencies, state education agencies, state organizations, and national/international organizations.
Funding for sponsored activities come from school district resources, state allocations, federal funds, grants, and conference registration fees.
Professional Developers
Who are the professional developers?
The people who make the decision to hire a LLG professional developer have very specific needs. They want a speaker who will be motivating, enthusiastic, informative, and well-received by a majority of the participants. They want participants to leave with a positive feeling about what they currently do and what they can do in the future with technology in their classroom. They want a speaker that can empathize with their concerns and provide hope for the future. They're seeking a speaker who will generate positive responses on workshop or conference evaluations. They need a speaker who is reliable, flexible, and easy to work with during conference planning.
Educators like the enthusiasm and flexibility of LLG professional developers. With lots of experiences working with both adults and children, the developers feel confident working with all grade levels, content areas, and technology skill levels. They are able to speak on a wide range of topics in a variety of settings and presentation formats. Their practical, "user-friendly" approach to high-tech topics and issues make customers feel comfortable.
By blending theory and practice, our participants feel confident in their ability to apply what they learn to "real-world" classroom settings. Rather than focusing on abstract models or technical demonstrations, our professional developers provide learners with lots of examples, non-examples, and practical resources. For example, "step-by-step" instructions are provided when participants are involved in hands-on activities.
The speakers provide lots of simple tips and suggestions that can be easily implemented. The professional developers "practice what they preach." They use desktop presentations, props, books, video segments, handouts, worksheets, small group discussions, and other resources to illustrate their ideas. Finally, customers always leave with handouts, lists of resources, and instructions for locating additional materials at the eduScapes website. Our professional developers work hard and customers feel that they are getting a good product for their money.
Scheduling
We're scheduling an event. are you available?
If you'd like Annette Lamb and/or another professional developer to speak at your workshop or if you just need more information, simply contact Annette Lamb by email.
October and April are the busiest conference months and summers are popular for workshops. Our schedule is flexible, so we'll try to meet the needs of your particular conference or inservice date.
Fees
How much does it cost to have you come to our event?
We don't publish our fees on the web, but we're happy to discuss fees through email. We generally charge a speaking fee plus minimal travel expenses (airline, rental car, parking, hotel) and printing costs. We recognize that educators don't have lots of money, so we try to keep costs down.
We want to keep our clients happy, so we're very flexible. We can make the travel arrangements or you can do the coordination. We can choose the session topics or you can make the choices. Whatever makes you most comfortable.
Formats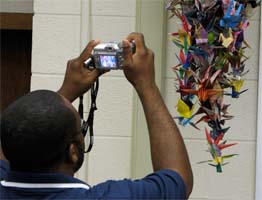 What formats are available?
We provide a variety of formats including keynote addresses, small and large group presentations, as well as workshops with and without "hands-on" technology time. We can also mix in some consulting time. For example, I might work with a small group of administrators in the morning, do a keynote for all teachers at noon, and a hands-on workshop for elementary teachers in the afternoon. I've spoken to principals, parents, and even school boards. A program can be developed to meet your group's needs.
Technology Needs
What are the technology requirements?
We know that the equipment available at schools and conferences vary tremendously. We generally use Microsoft PowerPoint presentations and software demonstrations that can be stored on our laptops. We pre-select the Internet resources so it's possible to do a large group presentation without Internet access.
We ask that you supply a data projector and screen for projection. It's also helpful if you can provide a cart for the data projector and a table or lectern for the laptop computer and props. I'll also need a power outlet strip with an extension cord to the nearest electrical outlet. You may also want to set up a 6 foot table for handouts and sample copies of my books and other materials. If the room is large, a microphone may be needed. I prefer a lavaliere microphone, but I don't mind using a hand-held microphone.
If you've requested a hands-on workshop, we'll still bring our "instructor" system. You'll need to provide a data projector along with the individual computer stations and Internet connections as needed. We'll need to know the number and type of computers, software available, network access, and any security restrictions.
Handouts
Do you provide handouts or website resources?
We are strong believers in providing alternative resources to meet the diverse needs of educators. As such, in addition to the desktop presentations, we provide participants with printed handouts. The materials are also available at our eduscapes website in the Activate section.
Video Recording
Can we record your presentation?
Not everyone is always available for a particular conference session or workshop. Feel free to video or audio record our sessions for non-commercial use within your school or organization.
Conference Book and Video Sales
Are your books available for purchase?
We generally bring sample copies of our books and provide catalogs and book fliers to our participants. We're a small organization, so we don't set up an exhibit in the vendor area of conferences. However, we're happy to have our books and other materials available for purchase at your event.
If you have a conference bookstore, our publisher can work directly with you to have our books available at your bookstore. You may also want to contact one of your popular vendors about selling our books at their booth or exhibit. Contact Nancy Smith at Vision to Action.
Why LLG?
Why choose LLG?
The advantage of LLG is our competitive price, enthusiasm, practical approach, experience, and professionalism. Contact Lamb Learning Group for more information.
Testimonials
Do you have testimonials?
I'm happy to provide references and testimonials.
My workshops have been named "Best of the Best" at the National Educational Computing Conference for many years including 2008(Digital Comics), 2007 (escrapbooking) and 2006 (extreme website makeover)

"If you're ever feeling like you're dragging your heels and need a high energy session to get you moving, all that you need to do is sit in a session led by Annette Lamb. Her session was 'Strong Nests, Successful Students: Skills and Strategies for 21st- Century Learning' and focussed, not only on the resources, but the logistics about how to make it all happen. Thank goodness that Annette creates supporting web resources because you'd never write it all done at the pace of the presentation. More that the resources, I really like the way that she puts a web resource together. Sure, there are links to the various internet sites that she references, but she provides all kinds of supporting materials that put a sense and direct purpose to the activities." Doug Peterson Blog for NECC 2009