The Community: Teasdale, Utah
The Location

Located off Highway 24 in south central Utah, downtown Teasdale consists of a post office, Teasdale Cultural Center, a bed and breakfasts, cabins, and a few streets of houses. The town isn't incorporated, so we don't have a town hall. The town is at latitude 38.286 and longitude -111.477. The elevation is 7,146 feet.
The Location
There aren't many people in Teasdale or in the county for that matter. Notice that on the map below from the US Census Bureau the legend notes that there is 1 person per square mile, so we'll triple the density in our area. The star locates our new property. To the north and east, it's 0 per square mile for many many miles.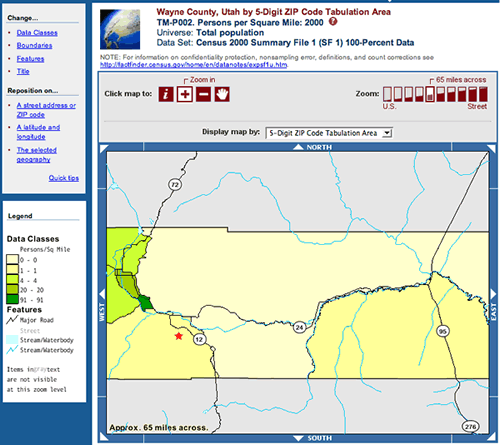 How Far?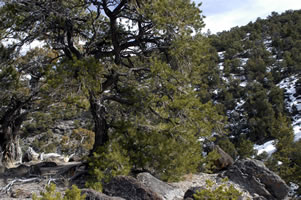 The middle of nowhere... just like we like it. However...
It's a website away from anything we need... Fed Ex and UPS deliver anywhere.
It's a couple minutes to a super cool eagle's nest occupied by Bald Eagles in the top of a Cottonwood tree.
It's a few minutes to Torrey and a small summer grocery store, several local restaurants, a Subway, and art galleries (very hippy, artsy, fartsy, right up our alley)... population 200.
It's 5 minutes to Bicknell to the community medical clinic, car wash, restaurants, school, and a wonderful small town movie theatre.
It's 15 minutes to Loa for the great Royal's Foodtown grocery store and the county courthouse.
It's 20 minutes to Fruita and a great pick-your-own fruit orchard owned by the National Park system with the best apples we've ever eaten.
It's less than an hour to 2 National Parks/Monuments (Capitol Reef and Escalante/Grand Staircase)
It's 60 minutes to Richfield and the closest Super Walmart, Home Depot, the hospital, and another movie theatre... but we have the Internet to order supplies and movies on demand.
It's a few hours to Arches, Canyonlands, Bryce, Cedar Breaks, Zion, Grand Canyon, Monument Valley and many more National Parks/Monuments.
It's 3 hours to a CostCo and small airport in Cedar City.
It's 220 miles to three regional airports (St. George, Grand Junction, CO, and Salt Lake). Although the Wayne Wonderland Airport is nearby, it doesn't have commercial flights.
It's one day to Estes Park and a long day to Santa Fe, Yellowstone, Death Valley, Las Vegas, Park City, Yosemite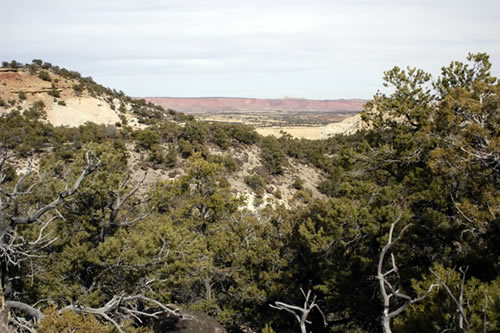 Above is a view of Rabbit Valley (Teasdale to the west and Torrey to the east).
---