Fluid environments FOR TEACHING, LEARNING, and Technology
Help students shift from being passive receivers to active readers, evaluators, thinkers, and innovators. Explore the potential of emerging cross-genre, multi-platform, transmedia resources as tools for motivation, differentiation, collaboration, and connections across the curriculum. Help students construct knowledge and convey complex messages through meaningful, technology-enhanced experiences.
Students move from reading the book The Search for Wondla by Tony DiTerlizzi to exploring the website to playing the iPad app... With so many information resources and new tools available, it's easy to experience information overload, Web 2.0 frustration, class management concerns, and time constraints. The solution is organized access to technology, varied approaches, collaborative activities, and choice in learning.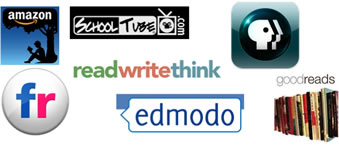 Fluid environments use multiple modes of communication to experience and convey a complex, interactive message. Information flows smoothly from one media to the next. The strengths of each media create synergy. The result is something more rich and dynamic than could be done in a single medium.
Let's use the recent Japan earthquake and tsunami disaster as an example:
Let's use the recent Chilean Mine disaster as an example:
Think! How can you connect current events to your curriculum? Do a Google search for a current event such as Syria and add the word "infographic." You can even find Zombie Attack infographics.
Let's explore fluid environments for reading, teaching, learning, and technology and life-long learning.