Update: December 2003
Blake's Graduation
We began December at the cabin in Hollister Missouri. The second week in December we headed to Charleston, Illinois for Blake's Graduation from Eastern Illinois University. We have a whole page on this event, so check out Blake's Graduation for more photos.
The photograph below shows (clockwise) Blake, Larry, Brooke, Ben, and Annette at the house in Charleston after graduation.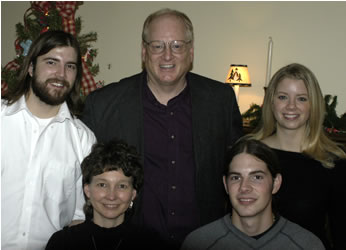 Early Christmas in Illinois
In Illinois for several days, we based ourselves at Sylvester's house (Larry's dad). While there, we did have time to play a few games, watch movies, and enjoy some good meals together. On one day, Annette baked a lemon cake and we had a late birthday celebration - - Sylvester had turned 84 years old a few days before we arrived. Larry's dad (below left) seems to be getting along fine living in the house on his own. However, he does gets lonely and seems to really enjoy having visitors. He got to share in the kids unwrapping their Christmas presents and even had a few of his own to open. Check out Christmas in Illinois for more photos.