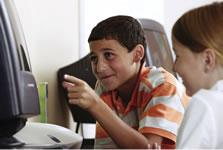 Photos, graphic organizers, maps, and more… address the NETS-S (National Educational Technology Standards for Students) and promote information fluency through technology-rich, graphic inquiry projects that enhance content-area learning. This workshop is intended to provide a practical approach to incorporating graphic inquiry across the curriculum.
Specifically, it is designed to help the school library media specialists, technology coordinators, and classroom teachers identify tools and techniques for using graphic inquiry with their students. This visually rich workshop provides numerous, standards-based inquiry activities and projects that incorporate traditional materials as well as emerging social and collaborative technologies.
Explore each of the following sections of this workshop:
---
Attention Workshop Participants:
For more ideas, be sure to check out the Get Graphic website.
For a more in-depth exploration, read the graphic book Graphic Inquiry by Annette Lamb and Danny Callison available from Libraries Unlimited (January 2012).