Inquiry 1: The Science of Bubbles
Click the comic link or comic image on the right to view the graphic version of The Science of Bubbles inquiry. Read the narrative below.
Jasmine has always been fascinated with bubbles. After her teacher introduced the interesting connections between air and water, Jasmine decided to investigate the science of bubbles.
What soap makes the best bubbles?

Why are some bubbles bigger than others?

What different tools can be used to make bubbles?

Where are bubbles found in the world around me?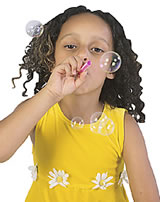 She found the tools she needed in the mini-lab set up through a partnership between the primary teachers and the media specialist. Ms. Anderson, the school library media specialist, spends much of her time exploring ways to partner with teachers on activities that will stimulate a love of learning in children. She explores connections between standards, textbooks, and the materials available inside and outside her center.
Many of Mrs. Anderson's projects are small and ongoing. For instance, the Super Science Center contains the basics needed for students to run their own science experiments including chart paper, clipboards, post-it notes, laptop with probes, and marked materials cartons. Located near the non-fiction science book collection and close to a sink, the materials in this area are constantly updated and rotated based on the needs and interests of children and teachers.
The children read Loreen Leedy's The Great Graph Contest and decided to create a graph comparing different brands of bubbles. Jamine along with a group of other children tested their bubbles and record their results at the Grapher website. They determined that Bubble Fun makes the most bubbles per blow.
The library media specialist introduced children to bubbles in nature including bubbles on the beach. She provided books about bubbles in nature and helped children find photographs from the web.
Having just completed a unit on the environment that used the quote "take only pictures, leave only footprints," Jasmine suggested a new quote, "Take only pictures, leave only bubbles."
Update: Jasmine continues to look for bubbles in nature.
Learn more about bubbles at 42explore: Bubbles.