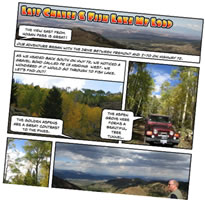 From writing graphic novels to creating math comics, bring your class assignments, student projects, and course materials alive with 21st century approaches to communication. Regardless of whether you prefer Mac or Windows, you'll learn to use free online tools as well as inexpensive software to produce graphic novels, illuminated term papers, visual science reports, photo essays, and other engaging alternatives to traditional reports and student products. These concrete products reflect student understanding and provide an alternative to traditional forms of assessment. In this workshop, we'll explore innovative ways to address essential standards across the curriculum while motivating reluctant students and promoting a love of reading and writing. Whether you're looking for fun ways to teach language or new approaches to address the diverse needs of today's students, you'll find lots of ideas in this fast-paced hands-on workshop.
Have some fun, explore Annette Lamb and Larry Johnson's Travel Comics.
Think about traditional reading and writing experiences such as reading the novel "Call of the Wild" or writing an essay on the topic of capital punishment. Consider new approaches. A traditional news story on the financial meltdown has become an information graphic new item.
The reading experience is evolving with illustrated books like The Invention of Hugo Cabret, graphics in novels such as The Selected Works of T.S. Spivet, graphic novels like The Eternal Smile, webcomics like Copper, and graphic textbooks and novels.
In learning about the Vietnam War, young people can draw on a wide range of resources including graphic histories such as the Dwight Zimmerman's Vietnam War: A Graphic History, a collection of short stories such as Tim O'Brien's The Things They Carried, and websites such as the Library of Congress Veteran's History Project. The resources and technologies come together as the student uses a maps, photos, a still camera, a Flipcamcorder and SchoolTube and Google Docs to share her project. The teacher infuses tools such asComic Life or a VoiceThread to bring the learning experience together through photos, video, and website materials to motivate and engage.
Try It! Create a Comic
Let's create a comic about a place you'd like to visit. Go to Wikimedia Commons or Flickr for visuals. Open Comic Life and incorporate the visuals into your story.
Deep Understandings through Differentiation
As you design instruction for 21st century learners, consider ways to address individual differences through activities that differentiate experiences. One way to do this is by adjusting the content, processes, and products of learning. Let's look at a math example.
The Content. Traditionally, young people have learned content from lectures and text-based books. Consider the addition of books that contain visual presentation and non-traditional information presentation. For instance, The Cartoon Guide to Statistics by Larry Gonick and Woollcott Smith hooks students. As them to find the fact and fiction in the book.
The Process. Look for new ways to teach math skills using graphics. For instance, a teacher developed lots of examples at WSDkids - Comic Life.
The Products. Involve young people in creating powerful products using a variety of tools, techniques, and multimedia resources. Go to Digital Triangle for a lesson and examples. Be sure to check out the rubric and examples. Use rubistar to create your own multimedia project rubric.