Start Inside, Move Outside
Work toward bridging the inside and outside world with a series of activities that look at the fact and fiction of the natural world. Along the way, address information skills associated with fact and opinon, fiction and nonfiction, and real and pretend situations.
Fact and Fiction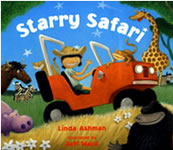 Connect math and science activities to nature themes. Also make connections between fact/fiction and real/pretend. Many picture books contain unrealistic views of the world. Help students see the difference between fact and fiction.
Read Starry Safari by Linda Ashman with illustrations by Jeff Mack. Choose an illustration from the Jeff Mack art gallery. How does this illustration look like and unlike the real animal? Create a PowerPoint document containing options for students along with photos that could be used for comparison. Select websites that could be used to gather information. You could do this activity with photos from many different illustrators.
Virtual Field Trips
Explore predictable books by Valeria Petrone including Way Far Away on a Wild Safari.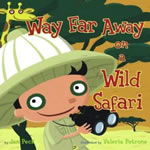 Let's go on a schoolyard safari. What creatures can be found in and around our school? What do you see on your adventure? Let's explore our community! Create an electronic scrapbook in PowerPoint showing the "signs of nature" found on the school grounds. Think about how this scrapbook could be expanded through the school year. Use some of the following techniques:
Create sounds to narrate photographs.
Use bubbles to highlight features in the photos.
Use the Speakernotes to provide background information.

Consider a theme such as
Signs of Life
Snapshots of Nature
Scrapbooking the Seasons
Our Nature Alphabet Scrapbook
Our Green Spaces
Outside and Alive
I Spy Nature

Use PowerPoint and photographs to create engaging activities that introduce or review topics. Provide students with some starters. Then, give students digital cameras to record additional examples.
To save the starter project, right click on the words Who Lives Here, then choose Save Target As. Notice where the file is being saved. Use the slide show mode to run the presentation. Follow the directions in the SpeakerNotes in the presentation to create your own project. Try combining images together. For example, go outside and take a picture of a bush, then add a bunny to this photo to place the bunny in a context. Need animals? Use the backyard.ppt.

Consider other ideas for interactive projects using photographs:
People Made or Nature Made?
Build starters to help students share their experiences and understandings. Right-click and Save Target as the weather.ppt example. Use this starter to create an activity that involves students in writing about weather. Then, ask students to build their own project using digital photos from real weather situations.