The teacher librarian must actively market the school library media program.
We've posted the ALA READ posters all over the school. Students are always asking when the latest celebrity is going to appear on a poster. One class even wrote persuasive letters to their favorite athletes and movie stars asking them to participate.
Children are starting to collect and trade our "special edition" library trading cards. We've got an art competition going for the next series of cards.
After several years of collaboration and project development, our school library website just won an award!
These are examples of successful library media center promotional activities. Regardless of whether the activities occurred inside of outside the walls of the center, they reflect an ongoing commitment to school library media advocacy.
Public relations involves building relationships with the learning community inside and outside the school. Advertising makes people aware of your program's goals, while a marketing plan focuses on convincing these people to take action. Finally, promotion involves a ongoing commitment to the advancement of ideas and programs.
Read Burkman, Amy (Nov / Dec 2004). A Practical Approach to Marketing the School Library (Access requires login). Library Media Connection; 23(3), 42-43.

Also read Young, Terrence E., Jr. (May / Jun 2010). Marketing Your School Library Media Center: What We Can Learn from National Bookstores (Access requires login). Library Media Connection; 28(6), 18-20.

How do you plan a promotion?
Although you need a master plan for center advocacy, you also need to develop plans for individual promotions. Like curriculum planning, marketing campaigns should be a collaborative effort. There are all kinds of promotion possibilities. Consider some of the following ideas:
Create an outreach program for students, teachers, administrators, and the community.
Develop a plan for promoting the collection including new acquisitions, curriculum connections, and older materials.
Create promotional literature for a particular area such as reading, information inquiry, or science literacy (i.e., newsletters, brochures, bookmarks, website, pathfinders, flyers).
Develop plans for displays to highlight events and projects (i.e., bulletin boards, display cases, special center events).
Analyze Needs. Seek out specific interests, needs, and problems in the learning community. Examine how these connect to your program's mission and goals.
Build Partnerships. Get others involved with your promotion. Consider curriculum connections. Reach out to other members of the learning community. To ensure success, be sure that you get a few people committed to the project from the beginning.
Example - the library media specialists wants to do a project based on the Iditarod sled dog race at eduScapes 42eXplore. She gets the fifth grade teachers to participate because they are already reading Stone Fox as part of their regular curriculum. Although she'd love to get all the grades involved, she's going to start small and grow build enthusiasm through a student-produced sled dog race mural during the week of the annual event. They'll track the race live on the Internet.
Develop Activities and Resources. Develop the materials needed to implement your project. What's the timeline? Who will do what, when? What advertising materials are needed?

Advertise the Promotion. Be sure that everyone is aware of the event or activity. Develop a press release, insert a note in the school newsletter, and create flyers. Use desktop publishing software such as Microsoft Word or Publisher to develop professional-quality promotional materials. Use online clipart or materials from CD clipart collections to add a professional look.
Example - the picture on the left came from Clip Art Gallery at Discovery Education.
Implement the Promotion. As you implement the program be sure to collect data. Count people, conduct a survey, ask for comments, take photographs, collect sample products.
Example - you take photos of students as they do their Poetry Slam readings during National Poetry week in the library. Selected poems and photos are placed on the school website. This web page also becomes part of your professional online activities portfolio.
Share Your Success. An important element of promotion is communication. Be sure that people know about the success of your project. Use local newspapers, school newsletters, center website, and bulletin boards to share your success.
Evaluate. Consider the effectiveness of the program. Immediately revise materials for the next time you use this promotion. Plan for the future.
Read Meskauskas, Debora. Planning Special Events: Blueprint For Success. Friends & Foundations of California Libraries.

Schrock, Kathy (Nov 2003). The ABC's of Marketing. Originally published in the School Library Journal; 49(7), 36. Iowa Library Services, State Library of Iowa.
Promoting your library media center program is a necessity.

Where can I find advertising and marketing ideas?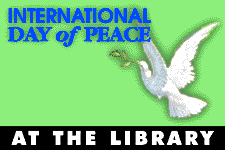 Even if you don't think of yourself as particularly creative, you can develop a create advertising and marketing strategies as part of your promotional program. Many ideas can be found on the Internet.
Example - Library Media & PR website has lots of ideas for posters and banners for reading, special events, and promotion such as the International Day of Peace poster on the right.
Example - Share the Thrill: Return the Books cartoon poster.
Keep it simple. Sometimes a simple phrase or quote can be as effective as a huge marketing plan. Use the following resources for ideas:
Visuals. It's nice to have visuals to represent ideas and draw interest. Consider asking students to create artwork for your projects. Use a digital camera to record events. Or, make use of clips on CDs and the web.

Example - Clip Art Gallery at Discovery Education. The language arts section has great book graphics and the technology section has great electronic graphics. Also check out all the content areas. The Bookworm is from Clipart Gallery.
Other Clipart Resources: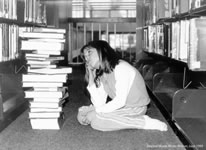 Examples: Library Displays - Blogsite devoted to displays promoting books.
Consider using your own digital camera to take photos. Be sure to get photo releases before using pictures of students in your publications.
Quotes. Do a Google search for a topic and add the word "quotes" and you'll find great materials. For example "nature quotes." Quotes make great banners and captions for posters.
Examples - Library Quotes , Quotes About Libraries at Goodreads, and Libraries & Kids: Quotes You Can Use from the Association for Library Service to Children (ALSC). Sample quote:
"My guess is (it will be) about 300 years until computers are as good as, say, your local reference library in search." Craig Silverstein, Director of Technology at Google.com.
Data Sources. Consider using facts and statistics to support your ideas.
Example - Quotable Facts About School Libraries (2010, PDF document) from ALA.
Also visit Kids! @ Your Library® from ALSC.
Research shows the highest achieving students attend schools with good library media centers.
School library media centers spend an average of $7 per child for books – less than half the average cost of one hardcover school library book.
Students visit school library media centers almost 1.5 billion times during the school year – about one-and-a-half times the number of visits to state and national parks.
What kinds of promotional materials should be developed?
Logos and Slogans. Thematic approaches are a wonderful way to standardize your library promotions. Start with a title for the project. Consider asking students to come up with the slogans and logos. Get everyone involved.
If you don't have the time or interest in developing your own materials, seek out existing programs. For example, ALA has lots of materials you can use in your promotions.
Brochures. Flyers, brochures, and handouts that focus on the mission of your program are a nice form of communication. Highlight examples of collaborative projects, successful promotions, and evidence you've collected about the effective of your program and the importance of school libraries.
Newsletters. A newsletter is a wonderful way to communicate with teachers, students, or parents. If you don't have funding for reproduction, consider an online newsletter. Then, feature the website URL on a bookmark you can distribute.
If you don't want the responsibility of an entire newsletter, consider adding a column to a school newsletter or submit articles to the local newspaper. Many school librarians provide book reviews or website reviews for the local newspaper as a public service.
Booklets. As you develop materials for students and teachers, consider publishing these as booklets. Topics such as copyright guidelines, citing sources, evaluating websites, fact and opinion, primary resources, or other topics would be valuable to your students and teachers, but also other members of the learning community.
Again if you don't want to develop these as a print resources, consider saving them in the PDF format and posting them on your school library website.
Displays and Bulletin Boards. Get students and volunteers involved with designing and creative attractive displays. These can be set up in standard areas such as established showcases and bulletin boards. However you might also create murals on paper and cloth for your walls, hang mobiles from the ceilings, design panels for your ceiling, and create flags.
Posters. Many wonderful commercial posters are available that advocate reading, writing, thinking, and ethical behavior. For example, the ALA READ posters are a popular, inexpensive way to decorate your center and attract the attention of students.
Also, consider getting your students involved with creating posters, murals, and other colorful visual displays.
Video and Audio Programs. From public service announcements to attractive PowerPoint slide shows, there are many ways to bring your center activities alive for audiences. They may be placed on local cable access channels, school-wide video systems, DVDs, or run on an old television set in a display case. Consider an ongoing slide show for open house that includes displays of student work in the library.
Booktalks. Booktalks are a popular way to promote reading.
Example - Use Booktalks - - Quick and Simple from Nancy Keane and Booktalking Tips for ideas.
Give Aways. Bookmarks, trading cards, sticker books, and post-it notes are just a few of the advertising "give-aways" you might consider. These don't have to be slick, expensive items. Your students can design them and they can be printed on your own printer. Use them as rewards or give them away to anyone. It's up to you. Also, consider they freebies that you can pick up at conferences.
Purchase Materials. You can also purchase materials from entities such as ALA, Brodart, and Demco.
How do I get my message to the larger learning community?
Sometimes the best public relations activities don't focus on you and your center. Instead, introduce your program as an essential element in a larger context. For example, take photographs of events that occur in the library from book clubs to school board meetings. When these are published in the local newspaper, the location will be part of the description. It may be small, but it can make a great impact.
Example - the teacher librarian is teaming with the third grade teachers on a unit related to Mexico. The teacher librarian suggests that the library media center could be turned into a Mexican village for a day. Classes throughout the school come and visit the exhibits developed by the students. During the event, the library media specialists takes photographs and submits a press release to the local newspaper. This highlights the center, the third grade teachers, and the entire school!
Or, feature the work of teachers and students in your library media center websites. Explore the features of effective library media center websites.
Words of Wisdom
Read about the public relations efforts of one library media specialist:
"I think one of the main jobs of a school library media person is to be a public relations expert for the media center and for the school. If you cannot promote what you have and what you can do for teachers, some will never darken your door. You cannot sit in the media center all day and hope to have teachers come to chat. You have to eat lunch with them, take a break in the lounge or go there before school when you know several teachers are there.
Become a friend, a colleague, then you can throw in ideas as they chat about their classes. My favorite quotation, one that I decided to use as my own motto, although I didn't tell the other teachers that I used it, is "Work with the living." Find folks who will try new ideas for using your materials, who will work with you on projects, and work with them. Publicize their ideas and get them special recognition by the administration or in the newspaper. Students and the administration will begin to talk about what they have done in their classes, and then the "dead" will arise. Other teachers will slowly begin to come in to see what they can do.
When I was the district technology director, I did a monthly newsletter with tips, news items, etc. One column each month was a discussion of neat things that teachers in the district had done with technology or with the media specialist. One day a couple of the media specialists jokingly told me I should quit doing that because it was bringing them too many teachers who now wanted to work with them. The teachers even told them they needed to work with them on a project so they could be in the newsletter. Again, a small idea, but big payoff for you!!!
You have the neatest ideas and neatest material in the whole school. Just be sure the folks in your buildings know it."
Jackie Carrigan
Retired - Plainfield Community Schools - High School Librarian
then Technology director for district Hendersonville, TN

Return to Top
Check Your Understanding
Information Power: Learning and Teaching - Principle 9. Clear communication of the mission, goals, functions and impact of the library media program is necessary to the effectiveness of the program. (p. 100, 112)
Create a marketing plan for your center. How would you promote the facility, materials, and program for your center with staff, students, and the community?
Your plan should include the following elements:
definition of public relations
detailed timeline/plan for a school year
a theme or series of themes and/or specific calendar year events (i.e., banned book week, reading month, black history month)
specific promotions aimed at particular groups (i.e., students, teachers, administrators)
long range projections or plans
ideas for continual evaluation and revision
Make It Real
Interview a school library media specialist:
Ask about recent promotions and how they were developed.
Read More About It
Baum, Karen (Sep 2002). A Legend in Their Own Lunchtime (Access requires login). School Library Journal; 48(9), 41.
Visiting speakers inspire kids to read and learn about different professions.
Everything You Need to Know to Set Up an Author Visit in Your School (PDF document). Event kit from Random House.
Fun Activities @ Your Library ® from ALSC.
Gyr, Peter (Jun 2006). School Libraries and Reading Promotion. International Board on Books for Young People (IBBY).
Hartzell, Gary (Jul 2003). Sharing Your Expertise (Access requires login). School Library Journal; 49(7), 39.
Want to become indispensable? Don't be afraid to strut your stuff.
Libraries are the Heart of Our Schools. Beaverton, OR. (Videoclip; 6 min 25 sec length)
As district's library programs faced potential budget cuts, library media specialists produced a digital video that included commentary from parents, students, and educators about why school libraries are important.
Library Card Sign-up Month from American Library Association
September is Library Card Sign-up Month - a time when ALA and libraries across the country remind people that a library card is the most important school supply of all.
Library Media and PR
Directed primarily to public libraries, this site offers a variety of information regarding library public relations.
Select Sections:
Library Media and PR Articles
Tool Box
Marketing the Library
Online modules were designed for Ohio public libraries.
McGriff, Nancy S.; Preddy, Leslie B.; and Harvey II, Carl A. (2002, 2010). Collecting the Data: Templates and Resources for the School Librarian.
Strategies and tools to evaluate and to promote the School Library Media Program.
Promotional Materials
Library Lovers' Bookmark Page from Friends & Foundations of California Libraries.
Printable Bookmarks at DLTK's Crafts for Kids.
Teacher Tools Bookmarks at Alphabet Soup.
Displays

Ideas for Bulletin Boards at Kims Korner for Teacher Talk.
Libary Displays and Bulletin Boards at the American Association of School Librarians (AASL).

---