Overview: School Media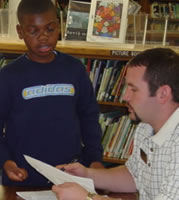 The teacher librarian and school library media program play an essential role in today's schools. Let's explore important role of the school library media specialist in the learning community.
Consider this School Media website as an online textbook for the course. In the first two weeks of class, we will explore each of the following resources in this section of the website:

Fall 2011, Kristin Fontichiaro and Buffy Hamilton (Editors) completed School Libraries: What's Now, What's Next, What's Yet to Come. They published it as an ebook at Smashwords.

It is a crowdsourced essay collection about trends in school libraries. The essays were written by librarians, teachers, publishers, library vendors, scholars, and other experts around the world. The book is free and can be downloaded or viewed online (Link below will open to new page):
http://www.smashwords.com/books/view/96705

Sections of this volume will be assigned throughout the first several weeks of the course. So be sure you have access or can connect to the content when needed. Note: This text is composed of short essays and is a relatively fast read.

Links to other materials in this section can be found in the navigation bar on the left side of this page.
---