The teacher librarian must be prepared for a wide variety of leadership roles in the learning community. These multifaceted roles require a thirst for knowledge and a commitment to on-going professional development.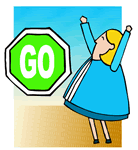 The library media specialist has many roles and responsibilities including teacher, instructional partner, information specialist, and program administrator (Information Power, p. 4-5).
Teacher. The teacher librarian must be an effective educator and curricular leader. The media specialist must possess up-to-date knowledge and skills on a wide range of educational topics including teaching, learning, and information literacy.

School media specialists should be teachers first! In order to be an effective teacher, the school library media specialist must consider the needs of learners. What makes students feel in charge of their learning? The Association for Supervision and Curriculum Development (ASCD) asked students what they wanted from their teachers. They responded:

Take me seriously
Challenge me to think
Nurture my self-respect
Show me I can make a difference
Let me do it my way
Point me toward my goals
Make me feel important
Build on my interests
Tap my creativity
Bring out my best self

Students were asked to describe a time when they felt in charge of their learning in school - when they were working not just for a grade but because they were excited and interested. Read what some of them said at What Students Want from Teachers from Educational Leadership (ASCD), Nov 2008: 66(3), 48-51.

Also read Alfie Koln's What to Look for in a Classroom from The Schools Our Children Deserve, Houghton Mifflin, 1999.

Example - The teacher librarian must be prepared to teach and collaborate on all aspects of information inquiry across disciplines and grade levels. In the morning, a teacher librarian may be guiding a class through the evaluation of websites for a science project, while later in the school day they may be teaching a small group to use the video camera for recording oral histories.
In the words of a school library media specialist in a middle school (Posted in response to a recent issue of the e-newsletter ASCD Express on the theme "The Transformational Media Center):
"We are moving beyond the concept of having a library curriculum and teaching lessons on discrete skills. Rather than the old methodology of teacher librarians teaching stand-alone lessons, we are embracing the concepts of co-teaching, integration, and cooperation." Mailbag: Media Specialist as a Coteacher. (Aug 2009).
A.Biffer
Nathan Hale-Ray Middle School, Moodus, CT
Instructional Partner. The teacher librarian must build collaborative partnerships throughout the learning community. The media specialists must be a leader in the development of policies and practices that support information literacy as well as learning across the curriculum. This involves working closely with committees and individual teachers to develop effective learning environments of students.
Example - The teacher librarian might bring together teachers from various disciplines to plan strategies that reduce plagiarism in the school.
Information Specialist. The teacher librarian must be an expert in locating, evaluating, and synthesizing information. Whether collaborating with the principal on a budget issue or teaching fifth graders to use electronic databases, the media specialist must model strategies for using a spectrum of traditional and new information tools and resources.
Example - The teacher librarian might work with a group of teachers on writing a grant proposal for funding an environmental education program. Assistance in locating background information, research for the literature review, and budget information would be a valuable contribution to this partnership.
Program Administrator. The teacher librarian must manage all activities associated with the library media program including budgeting, staffing, collection development, promotion, instructional, and facilities.
Example - The teacher librarian may initiate a cadet librarian program to help youth learn about the professional, but also assist in basic tasks such as collection circulation, shelving, and technical support.

Read The Metaphor Is the Message by G. Hartzell in School Library Journal, Jun 2002; 48(6), 33. (Access requires login). Librarians are much more than merely 'information managers'; multiple metaphors are needed.

Read Why Do We Need School Libraries? Librarian's Boost Learning! , Dec 2005 (pdf document) by M. Graham, an IUPUI student paper.

Also read Birds of a Feather by S. Joiner. School Library Journal, May 2005; 51(5), 42-5. (Access requires login)

Read The School Librarian as Teacher: What Kind of Teacher are You? by B. Hamilton. Knowledge Quest, May/June 2011; 39(5), 34-40. (Access requires login)

This section of the course contains the following related topics you'll want to investigate:

Your Role as a Professional
Organizations
E-Communication
Journals
Books
Websites
Notable Library Media Professionals
Government Resources
Collection Development Resources
Can a library media specialist really do all these things?
As you look at the expectations, the responsibilities may seem overwhelming. However all of the roles are important and demanded by today's library media program. Of course a teacher librarian can't do all of these things alone. That's the reason that collaboration, leadership, and technology are three key themes in a library media program.
Through collaboration, the media specialist is able to accomplish more than he or she could alone.

View a videoclip: The Librarian as a Catalyst and Learning Specialist in K12 (4:31 min) with English teacher Lisa Kennedy and librarian Buffy Hamilton (Nov 2011). They discuss partnerships between the librarian and classroom teacher; they also share how this partnership between librarian and teacher influences Lisa's evolution as a teacher and her instructional design and in turn, Buffy's practice as a librarian.



Through leadership, the teacher librarian can recruit others to participate in activities.
Through technology, the library media specialist can make center operations run smoothly, creating more time to focus on the most important program goals.

Read School Library Media Specialists' Perceptions of Practice and Importance of Roles Described in Information Power by A. McCracken in School Library Media Research, 4, 2001.

Also read Reframing the Library Media Specialist as a Learning Specialist by V.H. Harada and A. Zamuda. School Library Monthly, Apr 2008; 24(8).

Words of Wisdom
As you think about the roles and responsibilities of today's library media specialist, it's important to keep it all in perspective. What drew you to this profession? How will your choices and actions impact the lives of teachers and students?
Read the perspective of one library media specialist:
I read in LM_Net one time a posting from a new library media specialist who was preparing for her first meeting with her staff. She wanted to go over her library policies and copyright issues at that first meeting and wanted to know if there was anything else she should cover. I wrote back advising her that if she wants to make a good start with her new staff, she should not talk about library policies and copyright issues at that meeting. Maybe not ever talk about them. I'm not the copyright policewoman. I have my policies and copyright guidance posted for teachers and let them do their own thing. Instead, I talk to my staff about library programming, what I can do for and with them, books, and kids. You see, I am a teacher, too. I eat lunch with my buddies in the lounge and BS with teachers in the hallway between classes. I am here because I am a teacher. I tried to get a job teaching secondary social studies but constantly heard that "you're a great candidate, but we need a coach first." So I asked Dave Kinman, Director of the School of Education at Indiana University to give me guidance. He suggested I call Danny Callison to talk over the school library media program. Dr. Kinman explained that the school library is a different place these days. A perfect place for a teacher.
Every Thursday last year at 11:00 I had a student named Julie sitting at my feet. Sometimes on them. As she got more comfortable over the year, she would sometimes touch my skirt or rub my leg. She asked me every Thursday about my two little girls, and I gladly shared stories with her class. The whole school now knows all the funny stories of my girls and will yell out a hello to them when they see them at the grocery store or park. One Thursday Julie was absent, and I became concerned when she missed the next week. Turns out she had had a bad accident and was in the hospital. I called and sent a book and when she returned, I cut my lunch short so I could help her catch up with her school work. Her family doesn't speak much English so I knew she needed some help. The hugs I get from her in the hallway are my payment. I'm paid well indeed.
Catherine Trinkle
former Media Specialist at Hickory Elementary
ctrinkle@avon.k12.in.us
Check Your Understandings
Information Power - Collaboration, leadership, and technology ... are woven throughout the descriptions of library media specialist's specific responsibilities: as teacher, as instructional partner, as information specialist, as program administrator. (p. 4)

This section can be read online at Google Books: Information Power

View the promotinal video clip: School Librarians are Teachers (Jun 2010) (3:50 minutes). Would you change anything in its message?


According to G. Hartzell in The Metaphor Is the Message, many school librarians are limiting themselves by using traditional metaphors to describe ourselves and our work. Do you agree or disagree with his perspective? Why?
Come up with a unique metaphor to describe a library media program and the various roles of the library media specialist. Are you like a grove of Aspen trees or maybe a hive of bees?
Make It Real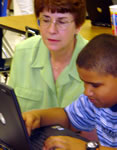 Read the top ten list in Teacher Librarian Tips by M. Luhtala and D. Ambrosio (Jan/Feb 2013) in American Libraries.
A library media specialist has many roles and responsibilities. Interview a media specialist about their various roles including teacher, instructional partner, information specialist, and program administrator. Ask them to share an anecdote related to each of these four roles. Then analyze their stories. Did their anecdotes contain elements of collaboration, leadership, and technology? Is this important? Why or why not?
Compare the perceptions of the media specialist you interviewed with the advice from Luhtala and Ambrosio. Create your own top ten list.
Read More About It
Bitterman, Amy; Gray, Lucinda and Goldring, Rebecca (Aug. 2013). Characteristics of Public Elementary and Secondary School Library Media Centers in the United States: Results from the 2011-12 Schools and Staffing Survey. National Center for Education Statistics.
http://nces.ed.gov/pubsearch/pubsinfo.asp?pubid=2013315
About two-thirds (67 percent) of library media centers in traditional public schools had full-time, paid, state-certified library media center specialists, while one-third (33 percent) of those in public charter schools had this type of staff. In traditional public schools, 20 percent of library media centers did not have any paid, state-certified library media center specialists (full or part time), and 56 percent of those in public charter schools did not have this type of staff.

Bromann, J. Trading Places. School Library Journal, Apr 2004; (50)4, 48-52. (Access requires login).
http://www.schoollibraryjournal.com/...
In pursuit of higher pay and better hours, a hardworking public librarian turns to schools.

Learning About the Job from American Association of School Librarians
http://www.ala.org/aasl/aasleducation/recruitmentlib/learningabout/learningabout
---