Professionals: Carl Harvey II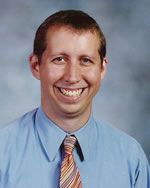 Carl A. Harvey II is beginning his twelfth year in education and his twelfth year as a teacher librarian. He is the library media specialist at North Elementary School, Noblesville, IN.
School Website: http://north.noblesvilleschools.org/
Media Center Website: http://www.nobl.k12.in.us/north/northmedia/index.htm
Personal Site: http://www.carl-harvey.com/
Library Ties (blogsite): http://carl-harvey.com/libraryties/


A graduate of Ball State University and Indiana University, Carl is active in both state and national professional organizations and presents at a variety of conferences and serves in a variety of leadership roles.
Carl is the President-elect of the American Association of School Librarians (AASL). He is also a former President (2004-2005) of both the Association for Media Educators (AIME) and the Indiana Library Federation (ILF). He has served as conference chair and general chair of the Young Hoosier Book Award program. Carl is an active member of the American Library Association (ALA), Indiana Computer Educators (ICE), International Society for Technology Educators (ISTE), Indiana State Reading Association (ISRA), and the International Reading Association (IRA). . He chaired the AASL Affiliate Assembly and was co-chair of the 2007 AASL National Conference in Reno, NV.
" . . . I love my job as a school librarian! In 12 years there hasn't been one day that has ever been the same. Each day brings with it new possibilities and opportunities, and I can hardly wait to see what the next day will hold." Carl Harvey (2010).
Carl Harvey's leadership activities also include writing. He has published several articles in various professional journals including the School Library Journal, Library Media Connection, School Library Monthly, and Teacher-Librarian. His articles have focused on a variety of topics including reading promotion, researching stations, technology integration, and professional development. He has written three books -- The Library Media Specialist in the Writing Process (co-authored with Marge Cox and Susan Page) (2007), No School Library Left Behind: Leadership, School Improvement, and the Media Specialist (2008), and The 21st Century Elementary Library Media Program (2009), all published by Linworth Publishing. Carl has also presented numerous conference sessions at AIME, ILF, AASL, and conducted workshops sponsored by the Indiana Department of Education (IDOE). Carl has also team taught this class, S671 (L553). He is a staff member of C.L.A.S.S. and this video clip (below) has him promoting a Related Arts Day event (2010) (Length 0:22).
Read Carl Harvey's (Oct. 2009) Hands On Handout: What Should an Administrator Expect a School Library Media Specialist to Be? (PDF document). Library Media Connection.
Some of Carl's awards include Outstanding New Lisdbrary Media Specialist (1999), Outstanding Media Specialist (2007) and the Peggy L. Pfeiffer Service Award (2007) all from the Association for Indiana Media Educators / Indiana Library Federation; the Frances Henne Award (2000) from AASL, and the Golden Apple Award (2001) from IPALCO. The library media program at North Elementary School has been recognized with the Blue Ribbon for Exemplary School Media Programs by the Association for Indiana Media Educators (2005) and the prestigious National School Library Media Program of the Year Award (2007) from the American Association of School Librarians.
---