Professionals: Hella Rumschlag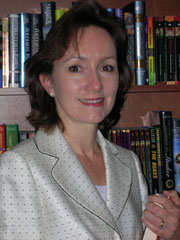 Hella Rumschlag graduated from SLIS in December 2005 and started her career as the media specialist and technology coordinator at Mohawk Trails Elementary School in Carmel, IN the following year.
Website of Mohawk Trails Elementary Media Center http://www1.ccs.k12.in.us/mte/media-center/
While studying toward her degree, Hella worked as a library assistant with Penny Patterson in Noblesville for 5 years and with Denise Dragash at Prairie Trace Elementary School in Carmel for 6 months. While at Prairie Trace, Hella created a collection development list that corresponds with the Indiana DOE's Curriculum Frameworks lesson plans for K-8 (Linked below). She did her student teaching with Nancy Hettlinger at Cherry Tree and with Jo Ellen Flynn at Creekside Middle School.
Books Aligned to IN Standards, p.51* http://www.indianalearns.org/collectionspreadsheets.asp
Prior to going back to school, Hella was a full-time mom to two boys; and before that, she was a research microbiologist. She is thoroughly enjoying her media and technology position and looks forward to sharing her experiences and expertise.
---