Nonfiction and the Information Age
Nonfiction information resources are of a factual nature. The purpose of nonfiction is to explain and inform. We've always used nonfiction books with young children. However we also strive to use real-world materials such as posters, phone directories, and signs. Over the past decade, a new wave of nonfiction resources have emerged on the Internet. Many of the traditional resources such as directories are now available online. In addition, blogs have introduced a new type of periodical that may contain audio and video in addition to text.
Primary/Intermediate. Explore an example of the next-generation of online resources for children. Go to The Green Hour from the National Wildlife Federation. The Activities Archive contains around 100 articles with podcasts, step-by-step instructions, recipes, and more. Nature Find is a directory of natural areas near where you live. Enter your Zip Code or city for locations and links to websites.
Intermediate/Middle School. Go the Occupational Outlook Handbook online. You can explore hundreds of types of jobs. Also check out What Do You Like? Use the Inspiration-Careers Template to share your findings.Or, use the online version, Webspiration.
T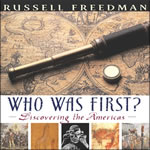 ruth is subject to opinion, perspective, and time. Nonfiction works may be accurate or not, so it's important for young people to carefully evaluate the materials they use. In Who Was First?: Discovering the Americas by Russell Freedman, the author explores different perspectives on the discovery of America. It's a great chance for students to think about the origins of information.
Today information and misinformation is shared so quickly, it's sometimes difficult to keep track of the facts. Go to Fact Check from Annenberg for an example of a project that helps young people analyze the information presented by political groups.
Why nonfiction?
A majority of the standardized tests focuses on nonfiction works.
A majority of workforce reading situations are nonfiction.
Nonfiction supports the "love of learning" mission
Nonfiction prepares young people to be members of society
Nonfiction helps children become independent thinkers
Expository texts differ from narratives in many ways. Some children who have no difficulty following a story, may find the structure and content of nonfiction difficult to understand. For instance, Frog and Toad Are Friends by Arnold Lobel and Frogs by Nic Bishop may both be read by primary children, but they are very different kinds of reading.
Information Age Learning:
Balance Technology, Book, and Hands-on Experiences
As you think about addressing standards related to nonfiction reading, explore ways to balance the use of technology, print materials and hands-on experiences.
Primary. Think about the wide range of materials that can help young people learn.
Technology. Read Things that Can Go from Starfall.
Books. Read:

Motorcycles (Google Limited Preview) by Chris Oxlade
Trains (Google Limited Preview) by Chris Oxlade
Trucks (Google Limited Preview) by Chris Oxlade

Hands-on Experiences. Explore how objects move.
Standards

English Standard 1.2.7. Relate prior knowledge to what is read.
Science Standard 1.3.4. Investigate by observing, and then describe how things move in many different ways, such as straight, zigzag, round-and-round, and back-and-forth.
Intermediate
. Explore current issues such as climate change through nonfiction books, technology, and hands-on experiences.
Standards

English Standard 3.2.6. Locate appropriate and significant information from the text, including problems and solutions.
English Standard 4.2.4. Evaluate new information and hypotheses (statements of theories or assumptions) by testing them against known information and ideas.
English Standard 5.2.4. Draw inferences, conclusions, or generalizations about text and support them with textual evidence and prior knowledge.
Science Standard 3.6.4. Take, record, and display counts and simple measurements of things over time, such as plant or student growth.
Science Standard 3.6.5. Observe that and describe how some changes are very slow and some are very fast and that some of these changes may be hard to see and/or record.
Science Standard 4.1.1. Observe and describe that scientific investigations generally work the same way in different places.
Science Standard 4.1.2. Recognize and describe that results of scientific investigations are seldom exactly the same. If differences occur, such as a large variation in the measurement of plant growth, propose reasons for why these differences exist, using recorded information about investigations.
Science Standard 5.1.3. Explain that doing science involves many different kinds of work and engages men, women, and children of all ages and backgrounds.

Books. How We Know What We Know About Our Changing Climate by Lynne Cherry and Gary Braasch (Sample Lesson Grades 5-8 (PDF), teacher resources, student resources, kids taking action.
Online Reading.
Online Exhibits. American Museum of Natural History's Exhibit
Hands-on Experiences. Participate in an ongoing projects that explore timely topics such as Journey North and Project Budburst.
Tools

Inspiration - Feature Story Template
Middle School. Involve young people in motivating topics using new technologies such as How to Love Your Dog: Rocky's Blog. Explore blogs as tools for sharing information and experiences. Explore age-appropriate blogs. For instance, the Smithsonian maintains a number of blogs to bring learning alive across the curriculum.
"Learning to read" and "reading to learn" go hand-in-hand.
What was your relationship with nonfiction reading as a child?
Are you a practical or passionate reader of nonfiction now?
As you work your way through the materials in this workshop, think about how to spark a love of reading and learning in your students. Let's nurture a generation of life long learners.

---