The library media specialist must develop collaborative relationships with the local community. It's the job of the teacher librarian to be proactive in seeking opportunities for collaboration.
What are local resources?
Each community has a unique blend of people and organizations. Churches, clubs, organizations, retail businesses, and industries are just a few of the groups that make up a community. Communities often have an interesting combination of ethnic and cultural groups, races, and educational backgrounds. All of these factors along with the historical and socioeconomic makeup of the community impact the needs of the school and the school library media program.
What is local collaboration?
Many school library media programs have forged exciting collaborative partnerships with members of the local community. Connections with the following groups are the most common:
public libraries
museums
historical societies
Chamber of Commerce
However there are often other groups and agencies that are ready to develop partnerships. For example, consider working with the local police and fire groups, arts agency, service organizations, and parks.
How do I conduct a community analysis?
In order to develop these relationships, you need an understanding of the people who live in the community. What are their interests, needs, and motivations? What kinds of partnerships have worked in the past? What opportunities exist for future relationships?
Who lives in your community?
What are the needs of your students and teachers?
How does the make-up of your community impact your program?
What's the atmosphere in your school?
Conduct a community analysis to determine the needs of your school library media center.
Read Community Analysis Techniques
Check Your Understanding

Information Power: Learning and Teaching - Principle 10.

The library media program is an essential link to the larger learning community.
Explore the following community situations. What additional questions would you like to ask to begin planning for a library media program in this community?
Example 1 - a small community K12 school. Other than a church, gas station, post office, and pizza place, there are few local gathering places. The nearest public library is 60 miles away. What impact might this situation have on the services of your library media center?
Example 2 - a large suburban high school. Most students have access to computers at home and the local library is within walking distance of the school. Most students drive to school or are bused. The school building doors open a 7:30AM and close at 3:30PM. What implications does this community situation have on the services of your library media center?
Make It Real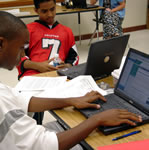 What are the strengths and weaknesses of your local community? How might these impact the partnerships you build?
What are the needs of your local community? What does the community have to offer? What do you have to offer?
How do these needs impact the library media center program?
As you look for professional positions, what are the characteristics you seek in a community? Where would you feel most comfortable?
Read More About It
Hartzel, Gary. What's It Take? An address to the White House Conference on School Libraries, June 2003.
http://www.imls.gov/pubs/whitehouse0602/garyhartzell.htm
If there is so much evidence that libraries make a difference in student achievement, why haven't you, your school and community heard about this?
Hartzell, Gary. When Research Won't Work. School Library Journal, Aug 2003; 49(8), 39. (Access requires login)
http://search.epnet.com.proxy.ulib.iupui.edu/login.aspx?direct=true&AuthType . . .
Taking a one-size-fits-all approach to information can be perilous.
---