The library media specialist must conduct evaluation on all aspects of the collection and program.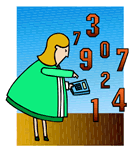 How do I know if I'm reaching my goals?
Should I be reporting my progress to the principal?
Am I spending my money wisely?
Evaluation will help you answer these question.
Evaluation will also help you determine whether your center is serving its purpose. It will help you decide if your money is being well spent. Finally, it will help you identify strengths and weaknesses in your collection to determine if you were able to "fill the gaps" you identified at the needs assessment phase.
Evaluation is closely tied to analysis and needs assessment. It involves placing a value or worth on an item or activity. Evaluation is employed to determine the degree of excellence being achieved. You must weight quality and quantity of what you've accomplished and then compare yourself against the standard. This standard may be something you established or you may judge yourself against others.

Read Chapter 14 - Evaluation by B.J. Morris in Administering the School Library Media Center.

What's the terminology of evaluation?
There are a number of terms related to evaluation that you should know.
A checklist is a prepared list of items used for the purpose of observation or evaluation.
A criteria is a standard, norm, or judgment selected as a basis for comparison.
An evaluation criteria is the standards against which the collection or program may be checked.
A standard is a goal, objective, or criterion of education expressed either numerically or philosophically as an ideal of excellence.
Why conduct evaluation?
Evaluation can address the following questions.
Is the library media collection and program responsive to changes in the school's program?
Does the library media collection and program support curricular and instructional needs?
Is the library media collection and program meeting the needs of users?
Does the library media collection and program provide access to materials from outside the school?
Does the library media collection and program include formats preferred by user?
Does the library media collection hinder or facilitate the library media program?
What are the steps in evaluation?
Follow the steps below in conducting evaluation.
Identify what information needs to be collected.
Determine how the information will be collected.
What effort is needed to collect he information?
What instrument(s) will be used?
What will not be measured by the instruments?
Determine how the information will be organized and analyzed
Determine how information will be use and shared
What are the principles of measurement?
In order to conduct evaluation, you must have an understanding of measurement.
Measurement is a process, not a product. It is ongoing and continuous. Measurement requires value judgments.
Spend your time measuring things that matter. Measure things like money, people, and time.
What are some techniques for evaluation?
Checklists. The first technique is the use of checklists. The advantage of this approach is that there are many lists and standards available. However, these lists become out of data quickly and may not all apply to your particular situation.
Observation. Another approach is direct examination. This is an impressionistic method that relies on physical examination o the material for size, scope, and depth. The evaluator will use words like sterile, fun, exciting, tidy, boring, or stimulating to describe your center. NCA does this type of evaluation. This technique can be surface level or in depth. An advantage is that an outsider can be objective. On the other hand, the process can be time consuming and the evaluator may not be there on the "right day".
Statistics. Another technique involves compiling statistics. Statistics on size, volumes added, expenditures, or circulation. An advantage of this technique is that it is easy to compile with compute statistics. The problem is that it focuses on quantity , not quality. In addition, it may be difficult to interpret the data.
Surveys and Interviews. Another option is to conduct surveys or interviews. This can provide current information related directly to your patrons. On the other hand, it can be time consuming.
What kinds of information should I gather?
The following list shows some of the information you may want to gather.
accessibility
cost user satisfaction
response time
cost/benefit ration
use
You'll want to develop your own set of criteria for quality and value. Then draw a random sample from the collection to examine. You may want to collect data about titles wanted by but available. In addition, you may want to keep a record of in center circulation and loan activities. This information should all be compared to your center goals and objectives as well as your collection development plan.
What do you do with all this information?
You'll want to share this information with students, teachers, parents, and administrators. A public relations project can promote strong areas of your collection. A written report to the principal can keep him or her informed about your needs, priorities, and activities.
Words of Wisdom
As you think about the importance of accountability, consider opportunities for data collection and analysis. How will you develop an evidence-based program?

Read the perspective of one library media specialist:
I am deeply engaged in reflecting on practice. We've been collecting evidence to inform us. Our video senior exits interviews serve to inform our entire staff. Our whole school information literacy thrust is currently focused on the CES Tuning Protocols to help us examine student work to inform our practice as it relates to student research.
...
Please feel free to share our reflective approach with your students. It
has absolutely changed my program and practice. Before this aha, I was
teaching really hard but I had no real evidence that my students were
learning. It seems they really weren't. Others in the building were
converted by the evidence in our first (baseline video) and it took a
whole school approach, where process was actually graded, to change
student attittudes. Yes, it was about both knowledge and attitudes.
Joyce Kasman Valenza
Springfield Township HS Library
techlife@school
Library website: http://mciu.org/~spjvweb
Personal website: http://joycevalenza.com
Check Your Understanding

Information Power - Program Administration: Principle 6.

Ongoing assessment for improvement is essential to the vitality of an effective library media program. (p. 100, 108)
Make It Real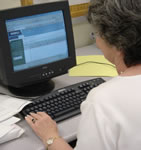 Whether planning for an annual report or justifying your job to the school board, you need to conduct evaluations on all aspects of your program.
Begin by looking at the annual report created by Robyn Young, Avon High School. This report was completed as an issue of the media center newsletter:
Page One
Page Two
Page Three
Page Four
Page Five
Page Six
Page Seven
Examine annual reports and evaluations developed by others. Create a plan for the types of evaluation and reporting that you would do as a teacher librarian.
Read More About It
Farmer, Lesley S.J. How to Conduct Action Research: A Guide for Library Media Specialists. Chicago, ALA, 2003. ISBN 0-8389-8260-3
National Study of School Evaluation. Program Evaluation: Library Media Services. Schaumburg, IL: NSSE, 1998. ISBN 0-8389-8134-8
Nebraska Educational Media Association. Guide for Developing and Evaluating School Library Media Programs. Englewood, Colo.: Libraries Unlimited, 2000. ISBN 1-56308-640-9
School Library Media Program Assessment Rubric for the 21st Century. In A Planning Guide for Information Power: Building Partnerships for Learning. Chicago: AASL, 1999.
---