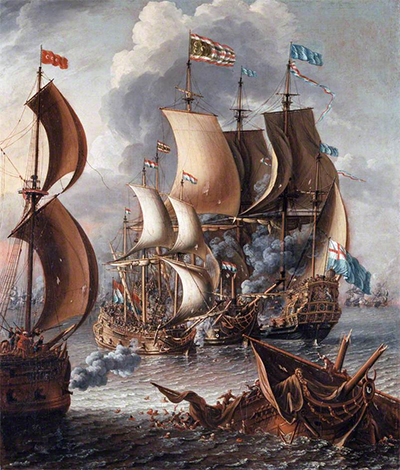 Ahoy! It's TALK LIKE A PIRATE DAY, so I thought I'd share my pirate ancestry.
Jan Janszoon van Haarlem, also known as Reis Mourad the Younger or Jan Van Salé (c.1570-1641) was a Dutch privateer, Barbary corsair, grand admiral, and Governor of Salé and Oualidia.
Like Englishman Sir Francis Drake, he was commissioned to use his personal, armed vessels for naval warfare in the name of his country, the Netherlands. However as he developed relationships with other countries like Spain and Morocco, he found that this legitimate form of war-like activity was more profitable when representing multiple flags. So, his ship began to "switch flags" depending on the ship they encountered. Because privateering wasn't renounced or outlawed until the Peace of Westphalia (1648), he technically died a privateer rather than a "pirate"… okay, he was a pirate… shiver me timbers!
Jan converted to Islam and had children with Morjana-Margarita Al Shabi of Cartagena. His son Anthony emigrated to New Amsterdam and may be the first American settler who is a multi-ethnic Muslim.
For family members, the lineage is through the women on Annette's dad's side of the family.
Smith>Preston>Miller>Carle>Lowe>Emans>Van Salee
To learn more about piracy, go to https://www.peacepalacelibrary.nl/2012/01/pirates-buccaneers-and-privateers-concepts-of-international-law/
To learn more about our pirate, go to https://en.wikipedia.org/wiki/Jan_Janszoon
Related Works of Interest