Flat Stanley's Red Rock Adventure in Utah
My nephew Alex Rathsack is a first grader in Mrs. Laird's class at Clayton Elementary School in Austin, Texas. Alex sent Flat Stanley for a visit in Teasdale, Utah in February 2011. Alex sent a very nice letter introducing Flat Stanley. Flat wanted to see our local landmarks. Click on the picture of Flat Stanley, Alex's letter, or Annette and Larry's letter to see it in full size.
Be sure to read the online picture book (a pdf file) Annette and Larry made for Flat Stanley.
Here are some postcards from Utah.
This is the Teasdale Cultural Hall. It was built in 1918 and is a historical landmark.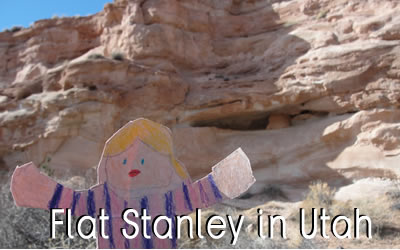 This is a Fremont Indian granary. It was used to store grain. It is a historical landmark.
This is Goblin Valley State Park. There are interesting geographic landmarks here.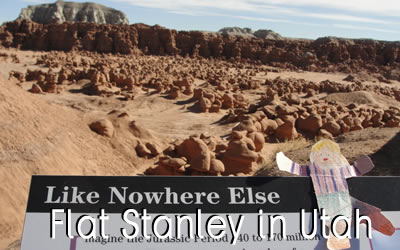 We are looking into Goblin Valley.
We hiked in Goblin valley.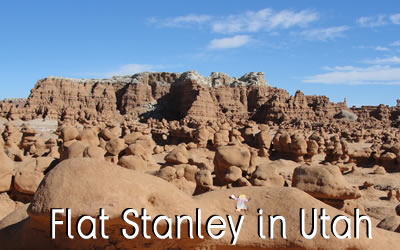 Flat Stanley enjoyed the sandstone in Goblin valley.
---