Seating Areas
A variety of seating areas is important in a learning laboratory. The learning space must be flexible enough to accommodate large group activities and class meetings. However, sometimes students need a quiet, comfortable place to read. At other times, clusters of chairs are needed for small group discussion.
Lighting is also an important consideration in seating areas. Many learning laboratories have lamps and reading lights in addition to the standard lighting often found in a library.
From bathtubs to car seats, learning laboratories find creative ways to provide comfortable seating for reading, thinking, and reflection.
The following examples demonstrates how seating areas facilitate the learning experiences of the student information scientist.
Public Health for All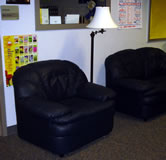 It's difficult for Jamal to find a good place to read at home. He's found that the comfortable leather chairs in the library are the perfect place catch up. He's been reading The Great Influenza: The Epic Story of the 1918 Pandemic by John M. Barry.
Explore Jamal's investigation for more detail.
---