"So there are really three groups -- creators who are granted legal rights under the Constitution and the Act, publishers who have legal rights by transfer, and users (or institutions such as libraries and schools) who have legal rights through exceptions and limitations to creators' rights."

Henderson, Carol. Libraries as Creatures of Copyright: Why Librarians Care about Intellectual Property Law and Policy. American Library Association.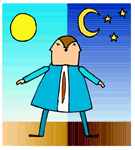 I found a great cartoon on the Internet. Can I legally put it in my library newsletter that goes out to parents?
A teacher wants to show a television program she recorded last year. Is this legal?
The principal wants to copy and distribute a chapter out of a book about reading across the curriculum. Is that legal?
The three people above are facing copyright issues. It's likely that none of these activities are legal. However, permissions can easily be acquired in each case.
What is Copyright?
Copyright is granted to the creators of works to protect their interest in the work and to encourage people to take risks and disseminate information. The copyright law is intended to protect against unauthorized printing, publishing, importing, or selling of multiple copies of a work. A fair use law was developed to provide guidelines in the use of copyrighted materials.
"Someone owns just about everything.
Fair use lets you use their things - but not as much as you'd like to.
Sometimes you have to ask for permission.
Sometimes you are the owner - think about that!"

Harper, Georgia (2001). Crash Course in Copyright. The University of Texas System.
Explore Taking the Mystery out of Copyright and Copyright and Primary Sources from the United States Copyright Office.

Read The TEACH Act: New Roles, Rules and Responsibilities for Academic Institutions from the Copyright Clearance Center.

What is Fair Use?
Fair use is intended to balance the interest of the copyright owners with the needs of the users. There are four requirements that must be passed to meet the law.
the purpose and character of use
the nature of the work
the amount, substantially or portion
the potential market
Read Fair Use at the U.S. Copyright Office.

Use M. Brewer's Digital Copyright Slider to clarify copyrights and date of publication. ALA Office for Information Technology Policy.
What is a Creative Commons License?
A Creative Commons license allows persons to copy and distribute a work provided that they give the the creator(s) credit and comply with the conditions specified in the licensing.
Visit License Your Work at Creative Commons to learn about procedures and conditions that can be applied to created work. Explore the site.
Check Your Understanding
"Educators and learners in media literacy often make uses of copyrighted materials that stand far outside the marketplace, for instance, in the classroom, at a conference, or within a school-wide or district-wide festival. Such uses, especially when they occur within a restricted-access network, do enjoy certain copyright advantages. As a practical matter, they may be less likely to be challenged by rights holders. More important, however, if challenged they would be more likely to receive special consideration under the fair use doctrine—because they occur within an educational setting."

Excerpted from The Code of Best Practices in Fair Use for Media Literacy Education at the Center for Social Media, American University.

Read (1994, 2008) 10 Big Myths about Copyright Explained by Brad Templeton.

Read Copyleft at Wikipedia.

Read / skim Circular21: Reproduction of Copyrighted Works by Educators and Librarian (PDF document). United States Copyright Office.

Visit Gasaway, Lolly. When U.S. Works Pass into the Public Domain. University of North Carolina.

Make It Real
See how you do at the Copyright Interactive from Cyberbee. At what age, grade, or ability level could this tutorial be used?
Read More About It
Butler, Rebecca P. (Mar/Apr 2005). Posting Students' Work to the Web (PDF document). Knowledge Quest; 33(4), 28-29.
Copyright (Navigation menu on left) from IU Libraries.
Copyright-Friendly and Copyleft (Mostly!) - Wiki site.
Copyright Clearance Center
The largest licenser of text reproduction rights in the world, was formed in 1978 to facilitate compliance with U.S. copyright law. CCC provides licensing systems for the reproduction and distribution of copyrighted materials in print and electronic formats throughout the world.
Copyright Information Center at Cornell University.
Hollaar, Lee A. Digital Law Online. School of Computing at University of Utah.
Image Friendly - Another Wiki site, Murray Hill Middle School.
Plagiarism: What It is and How to Recognize and Avoid It at Writing Tutorial Services, Indiana University
Stanford Copyright & Fair Use Center at Stanford University Libraries.
---