Standards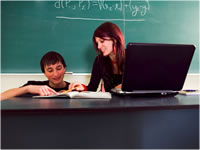 Participants will be able to build a plan for the integration of technology into classroom activities, integrate standards-based, technology-enhanced experiences into the curriculum, connect technology resources and activities to popular approaches such as literature circles and inquiry-based learning, and apply practical strategies to address essential skills, differentiate instruction to meet individual needs, and promote a love of learning.
Use standards-aligned, online lessons for ideas:
Put It All Together
Brainstorm starters, scaffolds, and sharing opportunities that can be integrated into effective, efficient, and appealing learning experiences across the curriculum.
Build a Plan
Integrate Standards-Based Technology-Enhanced Experiences
Connect to Popular Approaches
Apply Strategies to Differentiate and Promote Joy
Learn more about connecting traditional and new technologies to address standards at Literature Ladders: Linking Books and Internet Resources. Explore technology tools and resources related to the book Mercy Watson to the Rescue by Kate DiCamillo.
Notice how starters, scaffolds, and sharing are used in the following three projects:
Elementary Example - Young children are fascinated by bugs. Connect social studies, economics, science, math, and communication arts activities to insect exploration. Use a variety of resources for learning.
WebQuest - An Insect's Perspective, Insectweb, Spiders! Friend of Foe?
Websites - Bug Guide, Amazing Insects, Enchanted Learning: Insects, Tales from the Hive, Nature: Alien Empire, Insects for Kids, Bug Bios
Interactives - Go Buggy, Monster Bugs, Insect Games
Graphing: Grapher
Books: I Like Bugs by Margaret Wise Brown
Audio: Earth and Sky
Lesson Ideas: Insects We Love and Hate, Earth and Sky, Live Insects
Middle Example - Explore Titanic in the Classroom.
Secondary Example - Any sport or hobby has potential as an authentic way to explore social studies, economics, science, history, math, health and communication topics. Trace the changes in fish populations in a trout pond.

Try It!
Examine the projects provided. Then, brainstorm project options for your classroom.
Next, explore specific standards. Brainstorm ways that technology can be used for starters, scaffolds, and sharing.

You've completed this workshop.
You may want to go back and review each section: starters, scaffolds, sharing, and standards.

---