Comics and Graphic Novels in Teaching and Learning
From Beowulf illustrated by Gareth Hinds to Treasure Island, the possibilities for the classroom are endless. Why study graphic novels?
Read Bone: Out of Boneville by Jeff Smith. Check out the Scholastic Discssion Guide (PDF) or (Text). For more information, go to Scholastic Bone page.
Read A Case for Comics and Comics in the Classroom by James Sturm. This brief article highlights the reasons for using sequential art in the classroom.
Try What Comics Would You Like? from the Children's Museum of Indianapolis to learn more about different types of comics and which you might want to try.
There are many ways to use comics and graphic novels in teaching and learning. Here are some ideas:
Autobiographical Connections
Read To Dance : A Ballerina's Graphic Novel by Siena Cherson Siegel, Mark Siegel (Illustrator) (Age 12+). This graphic novel focuses on the life of a young dancer.
Use The Magical Life of Long Tack Sam by Ann Marie Fleming as an example of an illustrated memoir. Based on a documentary, this work contains a wide variety of images from hand drawings to screen shots from videos. Examine a page from the book and notice how historical photos and other images are used. Also example a page with still images from the documentary.
Kampung Boy by Lat explores culture and change growing up in Southeast Asia during the 1950s.
The Wall: Growing up Behind the Curtain by Peter Sis focuses on growing up behind the iron curtain.
Pyongyang by Guy Delisle is a non-fiction account of the author's travels in North Korea. Involve students in writing accounts of their own experiences traveling.
When writing autobiographies in the classroom, consider sequential art as an alternative to traditional approaches. Encourage young people to incorporate a mixture of visuals including art from their childhood, photographs, scanned documents, and other graphic elements.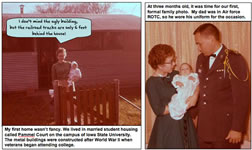 Rather than writing a report on a famous person, write a graphic novel! Incorporate original drawings and primary source documents including photographs; birth, death, and marriage certificates; scanned tickets, newspaper clippings, and other materials. Work with the location historical society to explore famous local or state personalities. Go to Laura Wilson as an example.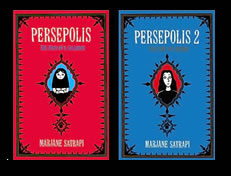 Read Persepolis: The Story of a Childhood and Persepolis 2: The Story of a Return by Marjane Satrapi. This memoir describes the life of a girl growing up in Iran during the Islamic Revolution.
Examine the Lesson and adapted WebQuest (Grades 11-12). Students will use the BioCube to outline their role and use Comic Life software to create a graphic journal. Finally, they share on a class wikispace.
There are many other ways to focus on people in a comic project:
Create a class "hero" biography that includes a chapter on heros in each students' life.
Biography Connections
Use graphic novels as a way to explore the lives of people throughout history. Read biographies from The Center for Cartoon Studies including Houdini: The Handcuff King by Jason Lutes & Nick Bertozzi, Satchel Paige: Striking Out Jim Crow by James Sturm and Rich Tommaso and Thoreau at Walden by John Porcellino.
Fiction Connections
Read Mouse Guard by David Petersen (Middle School +). Use the Mouse Guard website to focus on characters, plot, and setting. Also, check out the author's blog. Keep your own blog as you think about the characters, plot, and setting for your graphic novel.
Use a tool like Wikispaces to share your thoughts on characters, plot, and settings. For instance, you might create a comic page that explores the different visual representations of character, plot, and/or setting. Can you envision the setting for Tuck Everlasting? Why are there so many different images of Beowolf? If you'd like a space to share your project, I've set up a wikispace called Characters in Literature. You can add pages and information about the characters you explore, analyze, or create.
There's also a page started for Settings in Literature where you can share your thoughts on the settings in existing books or stories you're writing. Read a traditional book. What would the book look like if it were turned into a graphic novel? What colors would be used? Would you use line drawings or photographs? Write about it, then create a sample page from your graphic novel.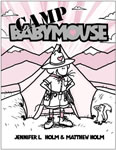 Also get young people involved in writing their own books or extend existing books. Read a book from the Babymouse graphic novel series by Jennifer L. Holm. Consider the following projects:
Write a story based on a character in your favorite book.
Write another chapter for a book.
Write an alternative ending to your book.
Write a totally new story based on your personal experiences.
Short Story Connections
Many comics series are compiled into short story collections. In the case of Flight, the collection focuses on the theme of flight.
The Eternal Smile (3 short stories) by Gene Luen Yang and Derek Kirk Kim
Use Postcards: True Stories that Never Happened edited by Jason Rodrigez to jumpstart an illuminated project based on postcards. Ask young people to develop a story based on a postcard. Go to the book website to learn more about it and see examples from the book.
Social Issues Connections
Read the award winning graphic novel: Pride of Bagdad by Brian K. Vaughan. Write your own graphic novel set in Baghdad. Write from the perspective of someone who experienced the bombing of Bagdad. Go to Bombs and Barbed Wire in Baghdad for an example.
Historical Connections
Read Berlin, Book One: City of Stones by Jason Lutes and Berlin, Book Two: City of Smoke by Jason Lutes to explore life in the 1920s and 1930s before WWII.
Still I Rise: A Cartoon History of African Americans by Roland Owen Laird and Elihu Bey explores the struggles of African American through history.
Read
The Arrival
by Shaun Tan. This wordless book focuses on the experiences of an immigrant. Many examples pages are at the
author's website
. You can also read an article by the author about his techniques. How well does it convey its message? What's real and what's fantasy? Compare images of the immigrant experience with the visuals in the story. Go to
Scholastic
for lots of ideas for immigration projects such as the
oral history project
.
Invent a family based on immigrant photos of the time period. View a sample page created in Comic Life.
Other Resources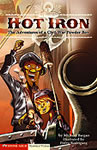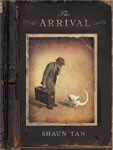 Read Hot Iron: The Adventures of a Civil War Powder Boy by Michael Burgan from Stone Arch Books. With a reading level of grades 2 and 3 but an interest level of grades 3 to 6, this book would be a good alternative for a child who might not be successful reading other Civil War novels for young people. Using it as an example, ask students to create a comic for one chapter of their book. Use photographs from the Library of Congress as a starting point. Be sure to check the Selected Civil War Photographs page.
Classics Connections
Some people have observed that graphic novels bring the classic works of literature to a new audience. Others say that these works are fakes and a poor alternative to the original versions. What do you think?
Read Beowolf or Treasure Island by Robert Louis Stevenson (retold by Wim Coleman and Pat Perrin) from Stone Arch Books in the graphic novel format. Compare the visual version to the text version. How do they compare? Which do you prefer? Why? What do you gain and lose betwen the two formats?
Go to Teacher Tap: Electronic Books for books you can read online such as Treasure Island and The Odyssey.
Content Area Connections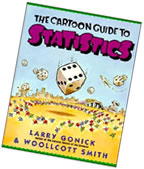 Read Cartoon Guide to Statistics by Larry Gonick and Woollcott Smith.
There are an increasing number of nonfiction comic books and graphic novels. From Chemistry to Statistics, you can find lots of examples to use as models. Get your students involved with writing a class book. Each student is in charge of writing a couple pages that can be used as a review of the topic. Consider an assignment that incorporates facts with a fictional account of a real event such as a natural disaster. Or, ask students to write a preparation plan for a natural disaster in the comic format. Rather than everyone doing the same thing, let students choose their earth science topic. Provide a few starter visuals. For instance, you might provide the DK Earth Science clipart page. Students could mix their own drawing with photographs and visuals.
Also use goverment resources such as the NOAA or USGS website. For instance, ask students to write about an environmental hazard. Rather than a traditional report, create a comic. Using PowerPoint, create the comic in the slide area. Then use the Speakernotes for additional information, facts, questions and answers, citations, and other information. You can print it as a comic book, or you can print each page with the speakernotes. One student did a project on Abandoned Mine sites using the USGS photos.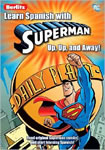 Use the Learn Spanish with Superman series from Berto get language learners involved with learning and writing in a foreign language.
Film Study Connections
Many graphic novels have been adapted for the film format. For instance, Waltz with Bashir by Ari Folman and David Polonky has won a number of awards. Explore the connection between films and graphic novels.
300 by Frank Miller
American Splendor by Harvey Pekar
Batman
A History of Violence by John Wagner and Vince Locke
I am Legend by Richard Matheson
Persepolis by Marjane Satrapi
On the Road to Perdition by Max Allen Collins
Sin City by Frank Miller
V for Vendetta by Will Eisner
X-Men
Wordless Books
Use wordless books such as Full Moon Soup by Alastair Graham for inspiration. Use them to talk about what's happening in the pictures. Use the links below for lists of wordless books:
Be sure to check out the children's and young adult sections.
---