Comics and Graphic Novels for Children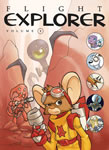 An increasing number of comics and graphic novels are being produced specifically for children. For instance, Flight Explorer by Kazu Kibuishi is a series designed for young readers.
Designed for 9-12 year olds, the Amulet series from Scholastic is one of the first fantasy series designed specifically for young people. Amulet Book One: The Stonekeeper establishes the characters, settings, and themes of the book. After their father dies in a car accident, two children and their mother move into the great grandfather's house where they find a world of fantasy and danger.
Web Comics
Explore examples of web comics for young people:
As you explore webcomics such as Children of the Sea by Daisuke Igarashi and others at Ikki from Viz Signature, examine the tools for online viewing.
Illustrators often collaborate on projects focusing on particular themes. These often begin as websites and sometimes become print projects. For example, explore Terrible Yellow Eyes, a tribute to the work of Maurice Sendak and Where the Wild Things Are.
To locate webcomics for kids, go to Kidjutsu.
---