E-mail and Text Messaging
Whether sending messages, photographs, videos, or other files, email is a great communication tool. It allows students and teachers to reach out of their school or library and connect with others around the world.
Email projects have been part of classrooms for more than a decade. One of the most popular projects involves tracking the migration of wildlife including the Monarch butterflies.
To learn more, go to the external resource from Teacher Tap: Email Tools and Technology-Rich Learning or Learning Spaces: Email & Text Messaging.
The following examples demonstrates how e-mail facilitate the learning experiences of the student information scientist.
Butterfly Migration
Each year the group participates in the Journey North project. This global study involves students in sharing their field observations with others across North America. The groups trace the migration of the Monarch Butterfly. Students keep charts of the migration patterns and report to the project through email. Click the map to learn more about this project.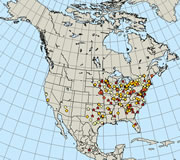 Explore Samantha's investigation for more detail.
---