The teacher librarian must develop a safe, functional, and attractive facilities that promotes easy access to information.
From responsibilities related to the Americans with Disabilities Act to an understanding of traffic patterns, facilities management involves more than buying chairs and playing with floor plans.
Regardless of whether you're building a new facility, renovating an old space, or just buying new furniture, you need to be well informed.

This section on school library facilities will mainly focus on renovation and new building projects. However facility planning is needed for other projects; i.e., closing a library, moving a collection or portion of a collection, disaster recovery, etc.
This section of the course also contains the following related topics you'll want to investigate:

Facilities Planning
Elements of Facilities
Open a New Library
Close an Old Library
Renew the Library Media Center
Where do you begin with facilities planning?
Rather than starting with specifications and bids, it's important to begin with an vision. What's the function of your library media center? What kind of the learning environment do you want to create? What will the atmosphere be like? What happens in your center?
Let's start on a fun note. View a short videoclip of a design submitted for the Woodland Hills High School Library Design Competition.


Can you envision the spaces filled with students and teachers? Do you see anything that you would like to change? The challenge of planning and designing a new school library facility begins with assessing the needs for that space. What is needed for today's students, and what might be needed in the future?

Read Baule, Steven (Apr 2007). Considerations on Facilities Planning (Access requires login). Library Media Connection; 25(7), 40, 42.
The first key in any building project is to ensure the library media center is included in the plan.

Read Imagining the Future of the School Library at DesignShare.
DesignShare spoke with two library experts, Doug Johnson and Rolf Erikson, to gain better insight into serving the information needs of students, schools, and communities via the future of school library planning and design.

Also read Building Digital Libraries for Analog People: 10 Common Design Pitfalls and How to Avoid Them by D. Johnson in Knowledge Quest, Mar/April 2000.
An experienced practitioner provides recommendations for planning a new library or refurbishing an old one.
How do you design an effective, efficient, and appealing school library media center?
There are many things to consider in developing a plan for new or renovated school library media center.
Read Way Beyond Fuddy-Duddy: New Libraries Bring Out the Best in Students (Oct 2005) by E. Schibsted at Edutopia.

Also read Design Considerations for School Library Media Centers from Wisconsin Department of Public Instruction.

Explore / skim through resources found at School Library at the Whole Building Design Guide, a program of the National Institute of Building Sciences.

You will also find lots of more online articles and resources for planning, design of school library media facilities in the Read More About It section below (bottom of the page).
What do you do if your center is being renovated?
While some centers remain closed during renovation, some library media specialists find ways for their program to stay vital.
Read Lehman, Kathy (Apr 2002). Promoting Library Advocacy and Information Literacy from and 'Invisible Library' (Access requires login). Teacher Librarian; 29(4), 27. Retrieved from Academic Search Premier database.
How does a new teacher-librarian keep visible when the collection is boxed up in an auxiliary gym and the school library resource center will not be ready for months?
How do you develop bid specifications?
The technical aspects of facilities design can be overwhelming. It's a good idea to get help from people who have experienced the process.
In addition to working closely with the architect(s) and building contractors who are designing and building the facility, added consultation will likely be required for computer networks, television distribution, media retrieval system, and American with Disabilities Act (ADA) guidelines.
Read Baule, Steve (Sep /Oct 2002). Developing Bid Specifications for Facilities Projects. Knowledge Quest; 31(1), 14-17.
An important aspect of the facilities design process is the development of good competitive bid specifications or a well-defined request for proposal.

Explore Healthy School Environments at the National Clearinghouse for Educational Facilities from the National Institute of Building Sciences.

Whelan, L. (Sept 2007). Going Green: Eco-friendly Schools. School Library Journal.

Frequently one must guesstimate the number of computers to include in a school library when designing or remodeling a facility. How does one determine how many computers are enough, or what is too many? What are other considerations?
Visit How Many Computers for a School Library? (Simpson's Law Calculator) by Carol Simpson.

Skim WorkPlace Resources. Information on contract furniture, ergonomics, design, and more.

Go to Furniture Vendors at Collection Development Resources (Previously assigned material) for lots of suppliers and information.
What if you don't have much money?
There's lots of small projects that can make a big difference in your center. Sometimes simply painting the walls, buying new posters, and adding some color will make a world of difference.
Read Renovating on a Shoestring by K. Hickes Spira in School Library Journal, July 2002; 48(7), 35. (Access requires login) How a private school revamped its library at one-third the cost.
Check Your Understanding
Information Power - Information Access and Delivery: Principle 2.

The library media program provides physical access to information and resources for learning. (p. 83, 86)
Make It Real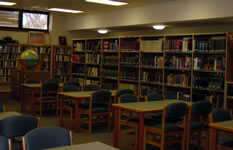 What are the basic functions of your library media center?
Design a library media center that reflects the ideas presented in Information Power.
Explain how the physical environment of the center reflects the needs of your learning community.
Read More About It
FACILITIES PLANNING
Building Libraries and Library Additions: A Selected Annotated Bibliography. ALA Library Fact Sheet Number 11.
Building new libraries, additions, and even remodeling can be a daunting task, and one that most librarians do not undertake frequently.
Center for Green Schools
Promotes the design and construction of green sustainable schools.
Resource:
All Guides
DesignShare
International forum for innovative schools; ideas and resources about best practices and innovation in schools from early childhood through the university level.
Green Libraries
Includes a green libraries directory and guidance for developing environmentally friendly library facilities.

National Clearinghouse for Educational Facilities from the National Institute of Building Sciences.
Planning and Building Libraries from University of British Columbia; School of Library, Archival and Information Studies.
This site has been created for librarians, architects, design consultants, and students interested in all aspects of planning and building libraries. The site provides an outline of key resources that are available online.
JOINT USE LIBRARY
Amey, L. and Bundy, A. (Spring 2006). Libraries Like No Others: Evaluating the Performance and Progress of Joint Use Libraries. Library Trends; 54(4), 501-518.
Bundy, A. (2003). Joint-Use Libraries: The Ultimate Form of Cooperation (PDF document). Planning the Modern Public Library Building. Libraries Unlimited; 129-148.
Fitzgibbons, Shirley A. (2000). School and Public Library Relationships: Essential Ingredients in Implementing Educational Reforms and Improving Student Learning. School Library Media Research, 3.
Findings from key studies, estimated numbers of combined libraries, pros and cons, and success factors.
Lankford, M.D. (2006). Handbook for Planning Joint Use School/Public Libraries. Library Development Division, Texas State Library and Archives Commission.

Tippecanoe County Public Library - Ivy Tech State College Joint-Use Library Project Proposal
Discusses the need for additional space in TCPL and Ivy Tech, the compatibility of the two libraries, the precedent for a combined library, and the advantages of a shared facility.
---