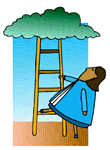 Your school system is adding a new primary building. You'll be helping with everything from carpet choices and furnishings to a new core collection.
Your middle school is moving into the old high school building. Your collection will come with you, but you'll be involved with renovating the old high school library.
Your building was destroyed by a tornado. They've rebuilt and you'll be moving into your new library in the fall.
Whether your library is being remodeled or you're moving into a new facility, there's a good chance that sometime in your career you'll be in charge of helping plan, build and open a new facility.

Read Sullivan, Margaret (Apr 2011). Divine Design: How to Create the 21st-century School Library of Your Dreams. School Library Journal.

Also read Cranz, Galen and Cha, Eunah (Nov / Dec 2006) Body-Conscious Design in a Teen Space: Post-Occupancy Evaluation of an Innovative Public Library (Access requires login). Public Libraries; 45(6), 48-56. Though written from the perspective of public library facilities, this article advocates that young adult areas need design elements to harmonize with the way teens sit, study, relax, read, and socialize.

What is involved in opening a new building?
Opening a new building is a challenge. It's easy to forget little things like bookend, stamps, or the size of the circulation desk. The following steps will get you started.
Find Help. There's no reason to do this by yourself. Ask your professional friends for help. Many of them have had experiences with new building. Also, make use of professional services offered by the major jobbers such as Follett, Baker and Taylor and Brodart. They can provide everything from the automation system to books and videos.
Begin Early. As soon as you have details on the new building, begin planning. When you have an anticipated date, place orders for materials and furnishings.
Use Data. Use established services and resources to help you make choices. For example, you may wish to start with a core collection based on your state standards. However also consider the interests and needs of your students and teachers. There are many tools that will help you calculate the amount of space needed for students or the standard height of chairs and desk.
Visit Sites. Take lots of site visits to other centers. Talk to people about their preferences. This is your opportunity to build the center of your dreams.
Get Help. You can't move in by yourself. Be sure to get help.

Read Wilson, Lisa (Oct 2004). Bringing Vision to Practice: Planning and Provisioning the New Library Resource Center (Access requires login). Teacher Librarian; (32)1, 23-27.
The author provides guidance for planning and setting up a brand-new school library media center.

Also read Jones, Leigh Ann (Aug/Sep 2009). Something New...Planning for Your New School Library (Access requires login). Library Media Connection; 28(1), 34-36.
Article discusses the process of planning for the opening of a new school library.

---