"Libraries are important, so they should look important. Several educators and children explained it this way: 'The library space should be the crown jewel of the school' because 'a beautiful library will create the enthusiasm for kids to want to come to the library ... because it changes everyone's impression of the school ... it teases children's imaginations and whets their appetite ... it generates excitement about learning.' As one seasoned librarian elaborated: 'A very attractive library will draw the students and teachers into the library ... then it's up to me and my staff to deliver. ... My dream is that one day I will hear a ten-year-old in the lunch room tell his friend he wants to go the library after school instead of the video arcade.'"

Excerpted from article by Henry Myerberg (Sep/Oct 2002). School Libraries: A Design Recipe for the Future (Access Requires Login). Knowledge Quest; 31(1), 11-13.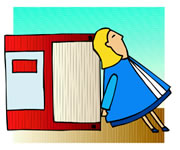 School library media centers should be a focal point of their school and community. The center's design should be aesthetically fitting: create attractive and inviting space for students, teachers, and the community.
The center's design should match the functions of the library media program. Useful space will meet the evolving needs of the school library media program.

"Well designed school library media centers are attractive and inviting and have a positive effect on usage, student behavior, and the learning that occurs . . ." (Erikson & Markuson, 2001)

Read Creating Library Spaces: Libraries 2040 (Aug 2002). IFLA Council and General Conference by Rob Bruijnzeels. (PDF document) This paper suggests that by 2040 the traditional public libraries will have ceased to exist and new, attractive future libraries will have taken their place. The Libraries 2040 project of the Netherlands is initiating seven different libraries of the future.

Read The Shape of Tomorrow by Debra Lau in School Library Journal, Mar. 2002; 48(3), 57. (Access requires login) A cadre of talented architects is redesigning school libraries to boost student learning.

Also read Abilock, Debbie (Sept / Oct 2002). Facility Dreams. Knowledge Quest.
Skim Lau, Debra (Mar. 2002). Gotham's Grand Vision (Access requires login). School Library Journal; 48(3), 52.

Why should design and layout be dictated by function?
The school library media center facility must be flexible enough to meet the needs of the library media program as it changes over time. The design and layout must address user needs and a wide range of program activities.

Users. In addition to being used by students and teachers throughout the school day, library media centers are an essential community resource. In designing facilities, keep in mind that they can be used by adult learners, community members during and outside of the normal school day hours.

Size. Size should not be based solely upon the school population, but the facility must be large enough to contain all essential areas of a comprehensive program.
Patterns of Use. Patterns of center use should incorporate the needs of whole classes, small groups, and individual users.

Evidence. A plan for renovation or new / replacement building of a school library media facility should be based upon evidence. Evidence from current and past operations are needed. Also collect evidence from other model programs that show the changes that are sought.
The library media facility should:
meet ever-changing student and community needs
provide varied information resources
provide access to new technologies
meet federal Americans with Disabilities Act (ADA) requirements
accommodate varied teaching and learning styles
consider evolving functions of the center
anticipate changing space requirements
fit school and community (grade levels, enrollment, location, curriculum

Read Dotten, R. Library Alive! (PDF document). Ontario School Library Association.
Detailed analysis of criteria for building or re-designing a school library facility, including a discussion of welcoming entrances, learning areas, flexible spaces, traffic flow,sight lines, and integrated technology.

Also explore Library and Media Center Facilities Design--K-12 from National Clearinghouse for Educational Facilities.
NCEF's resource list of links, books, and journal articles on the design and planning of K-12 school libraries, including sample city and state guidelines, and resources on technology requirements.
Visit another Related Websection at NCEF: School Design.
When do you start planning?
It's not too early to start now as you are entering or are relatively new to the professional field. Begin collecting good ideas. Keep them in an electronic journal or maintain a traditional folder.

Field Trips. Tour different school library media centers. Be sure to visit as many newly built or remodeled centers as possible. Make notes and take photographs of design layouts, furniture, and features that you like.

Virtual Visits. Virtually visit a few libraries online. Note how functionality and visual design interrelate.

Read Johnson, Doug (1998). Some Design Considerations When Building or Remodeling a Media Center.

Explore Simpson, Carol (2001, 2007). Exemplary School Library Facilities.
These notable libraries combine functionality with visual design to produce a facility that is as much a joy to work in as to behold.
Seasoned library media specialists proclaim that planning and building a new school library media center can be both daunting and rewarding. What a challenge the process is! What an opportunity! What fun it can be and yet it requires lots of energy and work. Where do you get started when you learn that a new building or renovation might be in the works?

Read and Collect. Read the latest texts on facilities planning. Check the online databases for recent articles. Prepare yourself with needed background information. As you read journals and visit websites, clip/copy pictures and collect articles and information related to facilities (i.e., Every February issue of School Library Journal focuses on school library media facilities, every April of American Libraries focuses on library facilities).

Seek Advise. Seek the advise of professional colleagues. Use your networks within your professional organizations and listservs / discussion forums / web-blogs to gain insights and tips from fellow media librarians who have been through a similar experience.
"Excellent school library media centers require excellent programs, staff, materials, and facilities."
Excerpted from the Facilities Handbook (No longer available online) of the Maine Association of School Libraries.
What are the implications of American with Disabilities Act (ADA)?
Access to resources must be equitable. Federal ADA requirements must be met for any new or renovated school library media facility to ensure that access to information resources and technology is provided to all persons. The facility must be accessible to handicapped persons. This space or class cannot cover or explain all of the provisions and ramifications of this legislation. New regulations and interpretations regularly appear. You should be aware of the following documents:
The teacher librarian should work closely with the architect and if available, ADA or adaptive technology consultant(s) to insure that design and planning decisions are the most appropriate choices for all persons.
What is the learning commons movement?
Learning Commons? A short, simple phrase that is applied to several concepts and applications; you can find it applied to several educational entities. In recent years a movement in library media centers began. It started first with many colleges and universities converting their libraries and now has edged into school libraries. Traditional libraries are changing their underused and generally shabby spaces to having more inviting areas that include soothing, fresh colors (walls and floor treatments), comfortable and varied seating and furniture (think cozier spaces with the 'cafe' feel), an abundance of technology (high speed wireless Internet connectivity, laptops and other computers, electronic displays / white boards), group viewing areas coupled with small meeting areas or rooms (one school incorporated six glass-walked rooms), and some tables with long-legged chairs where students can have coffee or another preferred beverage while sharing conversation, ideas, and working together.
There are still bookcases and books, but the school library have expanded their access to electronic media. What some would call a 'Barnes and Noble' approach, the goal is to transform a traditional center into a learning commons that spans both the print and the digital information worlds. Spaces that were often avoided now become collaborative work locations for students to gather and interact with friends. The 'learning commons' encourages learners to frequent the place many formerly abandoned to online resources and research. The learning commons evolves to become a central learning place where students gather to further their experiences.
"But students say that for the first time this year, they like coming to this space - a stark change from the old library.

'It was gross,' said Megan Salisbury, a senior at the school, who said she now spends much of her lunch break in the space.

'You can actually study here, rather than just try to get out of here as quickly as possible,' added Alex Hazel, another senior.

When their classes meet in Learning Commons, the students said, discussions are more spirited than in the formal confines of classrooms. 'It's more like kind of a debate. The library kind of enables that,' Salisbury said."

Excerpted from article by Kathleen Burge (Dec 2008). New 'Learning Commons' Defies Commonplace. The Boston Globe.


Read Koechlin, Carol; Zwaan, Sandi, and Loertscher, David V. (Oct 2008). The Time is Now: Transform Your School Library into a Learning Commons (Access requires login). Teacher Librarian; 36(1), 8-14. Retrieved from Academic Search Premier database.

Also read Cicchetti, Robin (Feb 2010). Concord-Carlisle Transitions to a Learning Commons (Access requires login). Teacher Librarian; 37(3), 52-58. Retrieved from Academic Search Premier database.

Librarians continue to be challenged to create spaces flexible enough to meet students' needs of the time as well as continuing meeting their future needs. Rethinking our space utilization and the layout and amenities provided is central to planning of facilities. There is more information about transitions to a Learning Commons in the information about Renew(ing) the Library Media Center.
Why is facilities planning a collaborative process?
You are not alone. In any major facilities planning and building process, you should collaborate with (not limited to) these stakeholders:
school administrators
school board members
architect(s)
teachers
library media specialist(s)
library media staff members
other building staff members (building maintenance, secretaries, etc.)
reputable consultant expert(s)
students
community members
Be sure that everyone who regularly uses or works in the library media center be included, even if that just means catching the janitor cleaning your center for a few minutes and having them look at early layouts.
In addition, it is a good idea to form an advisory committee, separate from the building committee, that concentrates planning and oversight efforts for matters relevant just for the library media center. Start with representative members for the faculty, staff, students, and workers. Members of the advisory committee as well as representative students and teachers can also be involved in any additional visits to new library facilities.
What program documents must be updated?
Another action starting point is to update the program documents: philosophy statement, mission statement, list of goals, and all program plan(s). Be sure to include the technology plan and the long-range plan for the library media center. These documents will serve to guide you and other stakeholders involved in the planning and building process.

Remember that many key people who will read/examine these documents are not librarians or teachers; therefore, complete a program statement that summarizes the documents in terms that layperson's use. Make it concise as possible. Check for clear understandings by having someone not involved with the school and not a teacher or teacher librarian read the document.
The main audience for this program document is the architect and it is important that they understand and gain a clear vision of what the library media center is at present and what is envisioned for its future.

Explore Building Libraries and Library Additions: A Selected Annotated Bibliography. ALA Library Fact Sheet Number 11.
Building new libraries, additions, and even remodeling can be a daunting task, and one that most librarians do not undertake frequently. This fact sheet provides references to the tools, resources, and advice to help you manage your library building project, whether large or small.
Itemize the space needs for the center. Make a bubble chart or diagram connecting approximate square footage with functional areas and indicate the relationships between spaces (i.e., reference materials connected to small-group study area, number of database workstations and whether grouped/distributed, proximity to checkout (circulation) desk).
Identify the functional contributions of each area to the library media program.
There will be more about space requirements in the Elements of a School Library Media Facilities.
Read More About It
Accessibility Resources
A Guide to Disability Rights Laws (2009) from U.S. Dept. of Justice.
National Center on Accessible Information Technology in Education from University of Washington.

Institute for Human Centered Designs
IHCD's work balances expertise in legally required accessibility with promotion of best practices in human-centered or universal design.
United States Access Board
Federal agency committed to accessible design.

Facilities Planning Resources
Books:
Baule, Steve (2007). Facilities Planning for School Library Media and Technology Centers (2nd Ed). Linworth Publications.

Erikson, Rolf and Markuson, Carolyn (2009). Designing a School Library Media Center for the Future (2nd Ed). ALA Editions.

Feinberg, Sandra and Keller, James R. (2010). Designing Space for Children and Teens in Libraries and Public Places. ALA Editions.

Other Online Resources:
American School & University
http://www.asumag.com/
Magazine on school facilities planning.

Design Considerations for School Library Media Centers from Wisconsin Department of Public Instruction

Fenton, Serena (Feb 1999). Architectural Follies (Access requires login). School Library Journal; 45(2), 26.
An architect-turned-librarian shares a strategy for working with architects to create a great library/media center. Discusses how to be involved in the architectural process step-by-step, from the planning stage, design development, construction document stage, through the final phase of creating a punch list.
Johnson, Doug (Nov 2009). Links to Facilities Planning Materials. The Blue Skunk Blog.
Bibliography of articles written by D. Johnson on library facility design.
Library Spaces (Wiki)
Useful links and examples of transformed learning spaces.

Planning and Designing Facilities for Learning from North Carolina Dept. of Public Instruction.
Planning and Building Libraries (2005) from University of British Columbia. School of Library, Archival and Information Studies.
This site has been created for librarians, architects, design consultants, and students interested in all aspects of planning and building libraries. The site provides an outline of key resources that are available online.

Schlipf, Fred & Moorman, John (1998). Seven Deadly Sins of Public Library Architecture.
Outline of a program presented at the Public Library Association national conference in Kansas City on March 12, 1998.
Related Presentation:
(Un)desiderata 27 Snappy Rules for Good and Evil in Library Architecture (2000)
School Library from Whole Building Design Guide, National Institute of Building Sciences
Information on a wide range of building-related guidance, criteria and technology from a 'whole buildings' perspective.

School Planning and Management
Magazine with information on school facilities planning.

---