As school library media specialists, we may never be directly involved in building a new center or in a complete renovation plan. Rather we often take over a facility in a new position and "inherit" a library media center that was built much earlier. However, we will likely be involved in making many smaller but very important facility changes.

As the needs and functions of the library program evolve, the facility must too change.
A large storeroom is used for housing back issues of magazines and periodicals. The collection goes back for years. Donations were accepted from the community, almost nothing was ever discarded and multiple copies of every issue of National Geographic are there.
The center was built years ago; an addition was made and today the main room is crammed with computer workstations sprinkled about, the library automation system and several terminals are at the checkout desk. Tables and seating are crammed in with bookcases filling the main sections of the library from wall to wall.

Your predecessor gathered clipped magazine and newspaper articles, maps, pamphlets and brochures for several years. This has evolved into a huge vertical file collection that is kept in a series of file cabinets in a prominent section of the library. You are looking for space to add computer workstations for online research and subscription databases.

These are all real cases. In some cases the needed changes may seem fairly obvious. Most library media facilities can be improved in some way. Congested traffic areas can be eliminated or improved. Priorities within the collection shift. Room is needed to accommodate a new initiative.
Example - a number of students are interested in starting clubs at school (reading club, science club, etc). They have sought your assistance and need space to gather. You would like to create a leisure section where they can meet and have access to library resources.

A majority of these changes involve small improvements made to sections of the library media facility. Occasionally an entire collection needs to be rearranged or moved.
Read Graboyes, A. S. (2011). A 21st Century Library in a 20th Century Space (Access requires login). Educational Leadership, 69(4), 74-78.
A high school librarian outlines how she and her co-librarian reorganized the layout and design of the library at George C. Marshall High School in Fairfax County, Virginia in order to better serve the students and teachers of the school.

Take a quick look at Gracie Murano's (Mar 2011) Another 12 Modern Bookcases. After looking at these unique ideas, can you think of new ways of designing interest in school library spaces?
"What has to happen for school libraries to become relevant? If we want to connect with the latest generation of learners and teachers, we have to totally redesign the library from the vantage point of our users—our thinking has to do a 180-degree flip. In short, it's time for school libraries to become a lot less like Microsoft and a lot more like Google."

Excerpted from an article by Loertscher, David (Nov 2008). Flip This Library: School Libraries Need a Revolution. School Library Journal.
Read Spira, Kirsten Hicks (Jul 2002). Renovating on a Shoestring (Access requires login). School Library Journal; 48(7), 35.
How a private school revamped its library at one-third the cost.

Read Chappell, Shirien (2006). Moving Library Collections: Planning Shifts of Library Collections. University of Oregon Libraries.

Explore / skim Our Path to a New School Library (Blogsite) by Martin.
The purpose of this blog was to create a log, a record of a journey to opening a refurbished school library (Oct 2006 to Sept 2007) at a secondary school in Suffolk, UK.

Transforming the School Library
School libraries are sometimes involved in a building renovation project where the facilities are totally revamped. In larger buildings, the process may be a multi-stage process with work being completed in one section while learning continues in other areas of the building. Such a process often involves noise, dust and debris, distractions and some unexpected developments. Building or library renovations are challenging, but driven by the knowledge that needed improvements and facility changes are worth the temporary conditions. Here again, planning and communication are critical. Partner with administration, teachers, students and the community in planning, decision making, and oversight of the processes.
Read Bentheim, Christina A. (Apr 2010). From Book Museum to Learning Commons: Riding the Transformation Train (Access requires login). Teacher Librarian; 37(4), 37-39.

GUHSD Library Council (2009). The Library Learning Commons (LLC) Where All Pathways Meet, Grossmont Union High School District.

Read Loertscher, David V. and Valerie Diggs, Valerie (Apr 2009). From Library to Learning Commons: A Metamorphosis (Access requires login). Teacher Librarian; 36(4), 32-38.
Presents a case study of the development of a Learning Commons in a school library setting, the Learning Commons at the Chelmsford High School library (MA).

Also read Close the Library? Guest Post by R. Cichetti (June 2010). Blue Skunk Blog.
Robin Cicchetti, Concord-Carlyle Regional High School, follows up earlier articles and reports on the transition to a Learning Commons facility. Read about a about a hard won "win."

Check Your Understanding
Read a practical posting by Henry, Jackie (Dec 2009). The Library as Convention Center? Wanderings (Blogsite)
Create a plan for renewal project that would make a school library media center more effective, efficient, or appealing. This project shouldn't involve much time or money. You may wish to base this on conditions you observed in your school visit.
Make It Real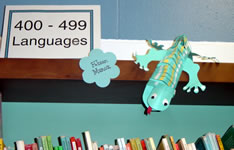 Examine a school library media center. Create a list of things that you could do to make the area more effective, efficient, or appealing. Compare your list with the ideas of the library media specialist.
Read More About It
Moving Libraries: ALA Fact Sheet 14
MORE ABOUT LEARNING COMMONS
Harland, Pamela C. (Sept - Oct 2008). Toward a Learning Commons. School Library Monthly.
Loetscher, David and Carol Koechlin. School Learning Commons Knowledge Building Center, The.
Peggy and Carroll, Greg (Feb 2010). The Learning Commons is Alive in New Zealand (Access requires login). Teacher Librarian; (37)3, 59-62.
Waterbury, Elizabeth (2010). The Triumph (Presentation).
Presentation proposing a Learning Commons.
TEXTBOOK
Loertscher, David V.; Koechlin, Carol; and Zwaan, Sandi (2008). The New Learning Commons Where Learners Win! Reinventing School Libraries and Computer Labs. Hi Willow Research and Publishing. ISBN 978-1-933170-40-4

---