The school library media program must provide services to meet the needs of teacher and students.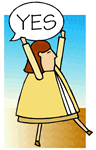 Whether addressing web-accessibility issues, teaching a group of third graders, or consider whether to remain open after school, the teacher librarian must create a program that meets the needs of all students and school staff.
According to Woolls (1999), the personnel, materials, equipment, and facilities of your center are highly visible. However it's the services provided by you and your program that make all of these things accessible to students and classroom teachers.
"I once worked for a library director who told me that I should never say that I was offering a service. If I did, teachers would take advantage of me and would not collaborate, but, rather, would expect me to be a babysitter for their classes while offering those services. I disagreed. I was offering services by providing curricular story times, planning collaborative teaching units, modeling best practices through excellent instruction in information literacy and technology skills integrated into the classroom curriculum, and much more. I was offering services, and teachers were cooperating with me by planning what was needed and coordinating their schedules to bring their classes in for that instruction. I was beginning to see some real collaboration as the teachers and I team-taught the units. Offering services helps build the collaborative culture. Cooperation leads to coordination as the teacher-librarian offers services in coordination with the school's learning calendar. The final step in the journey from cooperation to coordination is collaboration, and leadership is the key."
Coatney, Sharon (Sept 2003). Building a Collaborative Culture. Teacher Librarian; 32(4), 59.
Watch a videoclip (Below) about 'What a Teacher-Librarian Does" (Mar 2010)' by the United Teachers Los Angeles (UTLA) Library Professionals Committee:
How is the teacher librarian involved with professional development?
Quality professional development programs are rooted in the needs of teachers. From technology integration to information inquiry, school librarians have a wide range of professional skills to share. Often these skills can be matched with the goals of the staff development program. Or, are reflected in one-on-one work with teachers.

Explore our page on Professional Development for more information about the role of the library media specialist in staff development.
How is the library media specialist involved with the curriculum?
Today's teacher librarian spends a considerable about of professional time collaborating with teachers on curriculum development activities. Of all the professionals in a school building, the teacher librarian is the one person that must have an in-depth understanding of all grade levels and subject areas.
While elementary teachers often have experience in all subject areas, many educators entering the library field at the middle or high school level may only have experience in a single content area. As a result, much time must be devoted to partnering with teachers in order to feel comfortable selecting materials, planning activities, and developing programs.
There are many areas of the curriculum where the library media specialist must be involved:
Professional Collection. While some schools maintain a small professional collection in the corner of the teacher's lounge or office, others have developed a comprehensive educator resource in the library. The advantage of the library location is the ability of the school library media specialist to catalog and circulate the items. In addition, this collection often brings traffic from interested teachers. This will only happen if budget support is provided to the collection.
Many schools also maintain a complete set of textbooks in the professional collection. This is helpful for teachers of different grade levels and disciplines in planning interdisciplinary activities.
Curriculum & Department Committees. Whether serving on the textbook committee or as a member of grade level and subject area teams, the teacher librarian must be an active liaison to all groups planning curriculum. This may seem like an overwhelming commitment, however there are many ways to address this problem.
First, you may be able to share the responsibilities with others. For example, if there are a number of library media specialists in the school district, one may serve on each textbook selection committee.
Another approach is to make contact with the chairperson of each committee and development a relationships. When questions related to materials selection, information literacy, and related topic appear on their agenda, they might ask you to participate. This kind of relationship takes time and trust to develop.
Collaborative Planning. The teacher librarian must be proactive in meeting with teachers, suggesting joint activities, and promoting information literacy across the curriculum. Many classroom teachers are not aware of what a library media program is able to offer. It's your job to take a leadership role in curriculum development.

Read Lance, Keith Curry; Rodney, Marcia J.; and Schwarz, Bill (Jun 2010). Collaboration Works - - When It Happens! (Access requires login). Teacher Librarian; 37(5), 30-36.

How does the library media center promote literacy across the curriculum?
A primary role of the library media program is to promote literacy across the curriculum by providing access to materials, facilities, and services. In addition to materials directly related to particular standards, the library media center must also provide resources to encourage reading, information inquiry, and lifelong learners. Materials such as graphic novels, audio books, and magazine are commonly used to promote leisure reading. Soft chairs, stuff animals, bright posters, and carpet are used to make the library appealing and comfortable. Book clubs, project websites, and activities such as media fair promote learning beyond the school day.

Read Braxton, Barbara (Feb 2008). The Teacher-Librarian as Literacy Leader (Access requires login). Teacher Librarian; 35(3), 22-26. Retrieved from Education Full Text database.
It is not the role of the teacher-librarian to be the children's primary reading instructor, but there is much that the teacher-librarian can do to support children's reading development through the library.

Also read Beard, Terri M. and Antrim, Patricia (Jun 2010). Reading Workshops are Most Effective with a Teacher-Librarian (Access requires login). Teacher Librarian; 37(5), 24-29. Retrieved from Academic Search Premier database.
Collaboration between reading teachers and teacher-librarians, the format of a reading workshop, and the ways in which teacher-librarians can promote literacy through book talks, read alouds, and strategy work are examined.

What's the role of the teacher librarian in teaching and learning?
The school library media specialist has many roles and responsibilities related to instruction. These include assisting students with classroom assignments, team-teaching with classroom teachers, and teaching lessons related to information literacy and other related topics.
Within the School. Curriculum activities may take place in individual classrooms, the computer lab, the school library media center, or other locations such as on playground.
Beyond the School. The library media specialist also plays a role beyond the school through connections with the local community agencies including the public library, museums, historic and nature parks, and other resources.
Virtual School Library. Today's school library media center must have a virtual presence also. This involves maintaining an active website containing digital resources that can be access at home as well as at school.

Read Lamb, Annette and Johnson, Larry (Apr 2008). The Virtual Teacher-Librarian: Establishing and Maintaining an Effected Web Presence (Access requires login). Teacher Librarian; 35(4), 69-71. Retrieved from Academic Search Premier database.
The writers present a seven-part plan to help teacher–librarians to establish and maintain an effective web presence.

Also read Loertscher, David (Dec 2006). What Flavor is Your School Library? The Teacher-Librarian as Learning Leader (Access requires login). Teacher Librarian; 34(2), 8-12. Retrieved from Academic Search Premier database.
Article focuses on the five major flavors of library program that should be adopted by teacher-librarians as learning leaders.

How does the library media program meet the special needs of students?
Like all of the educators in the school, the teacher librarian must be aware of the special needs of teachers and students. These needs may be met through adjusting your collection, your facilities, or your teacher style to meet individual needs.
Example - the teacher librarian becomes aware that a new student is enrolled for fall who uses a wheelchair. A plan is developed to address likely areas of concern such as reaching the keyboard for the automated catalog computer. In some cases, cords are taped to the floor or a mat added, so a wheelchair can easily move across the floor.

Read Gardes, Tim (Fall 2008). Serving Lesbian, Gay, Bisexual, Transgendered, and Questioning Teens in Your Library Media Center (PDF document, Access requires login). CSLA Journal; 32(1), 23-24.
Obstacles to serving LGBTQ students are discussed including the scarce access to LGBTQ-friendly materials due to the dearth of gay-positive young adult materials.

Also read Hopkins, Janet (Mar 2005). Extending Inclusive Learning: Library and Special Education Collaboration (Access requires login). Library Media Connection; 23(6), 17-19.
Adapted and modified resources and educational and assistive technologies facilitate learning, participation, and access to the curriculum and library media center resources.

Browse Teacher Tap: Special Needs and Technology. This page contains lots of resources for educators.

Skim an article by Silverstone, Harriet (Jun 2003). Tech for Kids with Disabilities (Access requires login). School Library Journal; 49(6), 36. New assistive technologies are leveling the playing field.
How does the library media center help bridge the digital divide?
Some students live in homes filled with computers with Internet access, digital cameras, and color printers. Their parents take them to the public library and buy books from Amazon.com. Other children and young adults live in homes without access to the basics of books, paper, or crayons. They may not have access to computers or other electronic materials beyond the school.
This gap in access between the "haves" and the "have nots" related to technology is called the "digital divide." The school library media specialist must recognize that for some students, the school library is their only access to resources for information and learning. Therefore it is critical that services are available both within and outside the school day.
Before and After School Programs. Many schools offer access to the school library media center before and/or after school through the use of paid staff or volunteers. In some cases, access depends on bus schedules, whether the school is in a rural or urban location, and other factors such as building access.
Resource Circulation. Students must be able to check out materials they need for use at home. Including not only books and other traditional items, but electronic materials such as audiobooks and portable CD players, electronic review games, portable electronic keyboards, and sometimes every laptop computers.
Check Your Understanding
Information Power - Effective teaching is today seen as a holistic process involving all aspects of student life and requiring continual assessment and feedback for meaningful learning. (p v)
Information Power - Information literacy - the ability to find and use information - is a keystone of lifelong learning. Creating a foundation for lifelong learning is at the heart of the school library media center. (p 1)
You recognize a digital divide in your school. Some students have technology at home and some don't. What can the library media program do to bridge the digital divide? Develop a comprehensive plan based on evidence.
Make It Real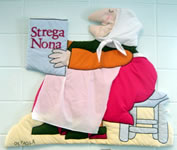 Interview a library media specialist.
Ask about the services the center provides in the area of curriculum. Also, ask about issues such as meeting special needs and bridging the digital divide.
Then, explore policies and procedures related to daily center operation. Do these services support the needs of the students and teachers? Why or why not?
Use the following questions to get your started.
General Operation Information
Who runs the day-to-day operations of the school library media center including professional, support personnel, secretary, volunteers, and students (volunteer or student workers)?
Are there job descriptions for each of these roles? Do you have copies?
When is the center open to teachers/staff and to students?
Who can use the center and when?
How are individuals, small groups, and classes scheduled into the center?
Do students need "passes" to come to the center?
Is the center used for study hall or other regularly scheduled classes?
General Circulation Information
If your center is automated, what procedures are required to get the system ready to operate when school begins (start of school year)? What about startup and shut down each day?
What is the process for keeping circulation and other kinds of statistics?
Is there a security system in place? What are your losses?
How do you handle the password for subscription services?
Student Circulation
What is the process of circulating materials to students? Include details that start with a student appearing at the circulation desk with library material until the material is returned.
Are there restrictions on the number of items a student can check out?
What about checking out specific materials; i.e., magazines, reference volume, audiovisual material, hardware, software?
What is the circulation period? Are renewals possible? How many?
Can students reserve materials? What is the process?
What about overdue materials?
How are students notified of overdue materials?
Are students ever involved in the process (overdues)? How?
What about teachers and administration? Do they help with overdues?
What about fines? If they are charged, how much? How is collected money used? Is this legal?
If materials are lost or damaged, how is the student assessed?
Faculty / Staff Circulation
What is the process of circulating materials to faculty and staff? Is there a specific circulation period, or is it open-ended?
Can teachers request a classroom set of materials? What is the process?
How do teachers acquire hardware/equipment? How do they access audiovisual/software materials for classroom use?
Can teachers reserve books and non-print materials? Can they reserve equipment?
What about a request to pull materials on reserve for a class of students?
Is there an overdue process for teachers?
Are fines charged? What about lost or damaged materials?
Are materials circulated to parents or other individuals in the community? If so, what are the procedures?
Read More About It
Special Needs
Jones, P. S. (2000). Come On In! Ways to Welcome Special Needs Kids into Your Library. Book Report, 18(5), 10.
Libraries and Autism: We're Connected (2008) from the Scotch Plains Public Library (NJ) and the Fanwood Memorial Library (NJ).
Award winning project produced a training video and website aimed at libraries to help them serve individuals with autism.
Literacy
Whelan, Debra Lau (Sep 2003). Why Isn't Information Literacy Catching On? (Access requires login). School Library Journal, Sept 2003; 49(9), 50.
Reports results of a SLJ survey and suggests what can be done.
Alber, Rebecca (Jan 2013). Deeper Learning: Defining Twenty-first Century Literacy. Edutopia.
Standards
Building Level Toolkit: Implementing AASL's Learning Standards and Program Guidelines in Your School Library at the American Library Association
Toolkit includes PowerPoint presentations you can adapt for use with your staff, stakeholders, and parents; articles you can read; a primer on inquiry; recommended books; links to the writings and implementation ideas of other librarians; a sample job description and evaluation documents; blog posts from folks in the field, and more.
Explore Education Standards at eduScapes TeacherTap to learn more about education standards.
---