Fall 2005 (volume 5, number 4)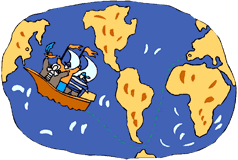 Discover Dynamic Digital Worlds
Are you prepared to lead your program into unknown territory?
Like the explorers of the past, librarians and educators are leading expeditions into exciting new worlds of information, inquiry, and innovation. From the bias of blogs to the boundaries of bandwidth, today's knowledge adventurers face unique obstacles. This session provides strategies for planning and guiding a successful journey into dynamic digital worlds. Learn More ...
Information Inquiry: Student Information Scientists and Instructional Specialists in the Learning Lab
Ready for a new vision for teaching and learning?
Think of your school as a learning laboratory filled with wonderful information resources and technology tools and your role as a mentor to emerging information scientists. Explore how to facilitate the creation of information fluent young people who love learning. Learn More...