Fall 2001 (volume 1, number 4)

Catching the Best of the Web: From Selection to Integration
Using the web in your classroom is much like fishing. Anyone can sometimes catch a fish, but it takes some skill to be a successful fisherman. In the same way, it's easy to stumble upon resources on the Internet, but to find the "best of the web" takes skill and practice.
This web-based workshop helps teachers find fishing friends, search a fishing hole, adapt ideas, and start small. If you've been frustrated trying to find good resources for your classroom, maybe you just need a few fishing lessons. Learn More...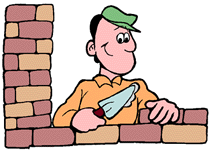 Brick by Brick: Designing and Developing Teacher Web Pages
Like sturdy buildings, teacher web pages must be built brick by brick or page by page.
Web pages are a great way to reach outside your classroom to connect with people and resources around the globe. The most effective web pages take planning. Think about the needs of your users and the time you have to spend on the project.
This web-based workshop helps educators explore teacher websites, identify content for your class page, locate a web host, expand your project, and reexamine your school website. If you've been using Internet with your students, it's time to build your own home. Learn More...