Fall 2006 (volume 6, number 4)
Freedom or Nightmare? Implications of Open Source Software
Freedom of access to the tools of technology helps bridge the digital divide.
Open source software provides wonderful opportunities for teaching and learning. However before you press the download button, it's essential to understand the philosophies, implications, and responsibilities of its use. From super software like Audacity and TuxPaint to key organizations like SourceForge and Creative Commons, this session provide practical strategies for enriching your technology resources, planning for the future, and avoiding potential disasters. Learn More...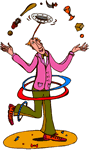 The Balancing Act: Juggling the Demands of Emerging Technology
Riding the Waves: Facing the Future with Emerging Technology
It's the best of times and the worst of times be an educator. Each emerging technology comes with new opportunities to address individual needs, alternative ways to motivate students, and innovative approaches to learning in an expanding world. At the same time these new tools and resources can have financial and program implications, trigger social and ethical concerns, and present professional development challenges. How are you dealing with the endless waves of technology pouring into your school?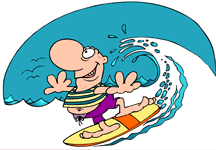 No longer does one technology or a single solution fit everyone's needs. This session explores strategies to balance the enthusiasm associated with new technology with the real-world programmatic and curricular implications. Blogs, wikis, podcasts, videocasts, and open source software are just a few of the emerging technologies prompting discussions about social networking, censorship, misinformation, plagiarism, and the role of technology in our schools.
Are you riding the waves to exciting new places or drifting out to sea? This session will help you set a course for successful infusion of emerging technologies. Learn More...
Re-imagine, Rejuvenate, Renew: Beyond Library Media Specialist 2.0
Whether tracing the movement of a book character using Google Earth or video conferencing with colleagues from around the globe, there's never been a more exciting time to be a School Library Media Specialist.
Like upgrading your software or adjusting to new equipment, change can be stressful. What's your role and the role of the school library media program in meeting the needs of learners today and tomorrow? How can we prepare a generation of motivated questioners, thinkers, and communicators who will harness the power of information and apply it in meaningful ways? This session will help you re-imagine, rejuvenate, and renew as you meet the challenges of a rapidly changing world. Learn More...
Also, check out Re-imagine, Rejuvenate, Renew: Educator 2.0