Guidebook
Creating a guidebook requires young people to organize and categorize information. Guides can be created to any topic such as travel guides, geology guides, history guides, healthy eating guides.
From nature guides to character studies, reading and creating field guides is a great way to synthesize information. When people think of field guides, nature books often come to mind. For example, the Natural Audubon Society and Scholastic have teamed to create a wonderful set of field guides for young people on topics including Insects, Wildflowers, Trees, and more. Other field guides include Audubon Society Guides, Golden Guides, Peterson Guides, Stokes Nature Guides, and Falcon Guides. Check out Scholastic's Science Explorations.
Many fantasy novels and series such as Harry Potter and Dragonology now have companion guides. For example, the Spiderwick Chronicles features a wide range of creatures from fantastical worlds.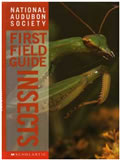 Explore the following examples of online field guides.
You may not be able to go to the Field Museum in Chicago, but you can go on a virtual adventure. Check out the Underground Adventure project from the Field Museum in Chicago. They have activities on creating Field Journals and Field Guides.
Zany Zookeeper Guidebook
Download and explore The Zany Zookeepers (PPT) example. For instance, you might focus on distinguishing the characteristics of insects, mammals, fish, birds, reptiles, and amphibians. Identify the similarities and differences among the groups. Then, invent an imaginary creature with the best of each world. Explain how you made your decision. Write a story or poem containing both facts and fiction.
Books About Imaginary Animals
Cock-a-Doodle-Moo: A Mixed Up Menagerie by Keith DuQuette
Scranimals by Jack Prelutsky and Peter Sis
I Wish I Had Duck Feet by Dr. Suess
The Whingdingdilly by Bill Peet
Website Resources about Animals
Go to Switch Zoo to create your own animal. Also, check out the other learning games.
Variations
Adapt the Zany Zookeeper project for your own topic:
Change the categories. Explore animal kingdoms, habitats, or biomes.
Focus the assignment. Distinguish between birds and bats or amphibians and reptiles.
Adjust the grade level up or down. Categorize wild and farm animals.
Change the situation. Focus on aquatic creatures at an aquarium.
Change the topic. Explore plants, rocks, weather, or another topic.
Change the zoo setting to a museum, farm, or city setting.
Adapt the Zany Zookeeper project for another assignment:
Explore real and imaginary animals (Use DK clipart for animals and dragons).
Distinguish photographs from clipart of animals.
Adapt for information skills:
Ask students to select an animal and compare the information found in three different sources.
Create your own Guidebook PowerPoint Sidekick.
---