Audio
Audio is an important element of a desktop learning space. It's essential for non-readers and children who need audio support for learning. Although you may want to pre-record directions or narrate project, think of ways to get young people involved in recording audio. For instance, you may have one group record directions for another group. Or, you may ask students to write a script in the Speakernotes, then record audio buttons for their project.
Even very young children can learn to use the audio element. For instance, you might provide a picture starter on one side of the screen and photos of children on the other. Ask children to record their voice and put their recording on their face. Then, listen to the stories of their classmates. You could also ask children to put the audio button next to their name.
Figure out ways for nonreaders to be successful. Audio record your directions and questions. Consider providing words with matching sounds that children can drag around to make sentences or tell stories. They can delete the words they don't use.
Sound is a great way to address the diverse learning needs of your students. Sounds can be inserted into most software tools. Begin by incorporating audio into existing projects. For example, you might record audio directions or information in Spanish. Add questions and answer audio buttons to projects. Next, try audio on single slide projects.
Your projects don't need to be sophisticated. You can record your voice and sound effects. They can be placed anywhere on the screen. Download and explore Bee (PPT) to see simple use of audio.
Download and explore Adventure Starters: My Land Adventure (PPT), My Air Adventure (PPT), My Water Adventure (PPT), and/or My Adventure (PPT). Create audio story starters. Ask students to tell a story or create audio buttons on objects on the screen.
I Spy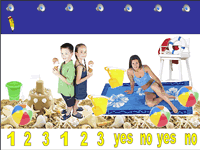 Children love to play I Spy. Get out your I Spy books and games. Then create your own.
Download and explore the I Spy (PPT) PowerPoint Sidekick.
The first sound button plays the directions and tells students to listen to the questions and match the number or word. To make your own, replace the sound buttons, change the photographs, and add your own numbers or words at the bottom.
Variations
Pose problems or situations for children to solve.
Ask students to delete, duplicate or add objects and make their own questions.
Match the images to specific content area activities such as community workers, maps, weather, transportation, or other activities.
If you have trouble with children losing the photographs, put all the photographs in the background. The sound files and answer characters need to be on the slide. Then, make a new PowerPoint document for each situation.
Virtual Word Wall
Create a visual word wall. The reason to create a desktop learning space is the ability to record the voice or children and adults. You could do this as a class or reading group project with each child choosing a picture, adding a word, and recording a sound. Or, this could be used as an individual activity.
Download and explore the My Virtual Word Wall (PPT) PowerPoint Sidekick.
Variations
Consider a "word wall" for a specific subject area such as science or social studies words.
Provide pictures on each page. As children learn the word, add the written word and record the sound.
Musicals
Read Sarah, Plain and Tall by Patricia MacLachlan. Download the Sarah, Plain and Tall (PPT) PowerPoint Sidekick. Did you know that there is a musical based on this book? Use a PowerPoint Sidekick to connect the music with the book. Ask students to match the songs to the chapters.
Website Resources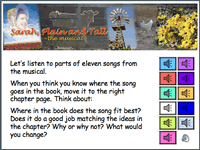 Variations
For young children, audio record key events from a book. Ask children to put the audio clips in the correct order. For example, in If You GIve A Mouse a Cookie you might say "the mouse will need a glass of milk." This works particularly well with predictable books or books with sequencing.
Rather than using music, consider providing photographs or other visuals. Then, ask students to match the photos or visuals to the chapters. The visuals might represent objects, settings, or other elements of the chapter.
Look for science and social studies songs. Turn this unit into a "musical."
Books on CD
Kiddie Records is a website where you can find all those old 45s and 78s you loved growing up. In some cases storybooks are available in addition to the audio recordings of songs and stories.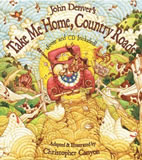 Many picture books now provide a CD to accompany the book. You can download the audio clip and insert it into PowerPoint for a classroom activity. Read and listen to Take Me Home Country Roads by John Denver from Dawn Publishing. Ask students plan a family reunion. Or, direct young people to write and illustrate their own song about a family reunion.
Read and listen to Marsupial Sue by John Lithgow. Create a virtual trip through book and the characters. Show both the cartoon characters from the book and a real photograph of the animal. Ask students to compare the fictional version with the real version. How are they alike and different? Then, ask students to learn more about one of the real creatures. Why was it included in the story? Did it act like the real animal would act? Explain.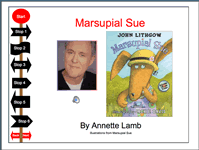 (This file is not available because it incorporates visuals from the book.)
Music
Use United Streaming to download great audio including songs. If you don't have an account, use a trial. When you conduct a search, select Audio: Songs.
Also, explore music online:
Online Music for Kids
MIDI Files
Create your own PowerPoint Sidekick.
Web Resources
Students and School Podcasts
Content Area Podcasts

General Topics
English Topics
Science Topics
Social Studies Topics

Sound Search Tools
Multimedia Seeds
Learn more at High Tech Tools: Sounds. Also, explore Learning Spaces: Podcasting.
To record and edit audio, download Audacity for free! Be sure to download the LAME MP3 encoder if you plan to save as MP3 files.
---